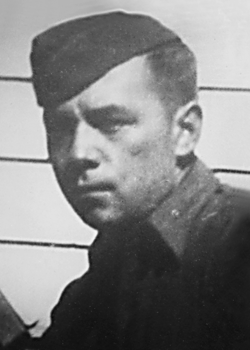 George G. Barnett
The following tribute was researched and written by Lowell Silverman.
Biography: George Gilbert Barnett was born in Pleasant Hill, Maryland on October 27, 1913, the son of Albert Stanley (1892–1969) and Myrtle Barnett (1896–1925). By June 5, 1917, the family had moved to Newark, Delaware. George was only 11 years old when his mother died. He dropped out of school after completing eighth grade. As of April 2, 1930, he was living with his father and grandparents at 30 East Cleveland Avenue. Father and son were laborers in a fiber mill. (It may have been Continental Diamond Fibre, the vulcanized fiber factory where Albert was working as of June 5, 1917.)
As of April 12, 1940, he and his father were lodgers living at 151 East Cleveland Avenue in Newark. The younger Barnett's occupation was listed as auto mechanic. When Barnett registered for the draft on October 16, 1940, he was working for the Fader Motor Company. He was described as standing 5 feet, 5 inches tall and weighing 180 lbs., with brown hair and gray eyes. An annotation to his draft card indicated that he subsequently moved to Elkton, Maryland.
Service Time: Barnett was drafted and entered the U.S. Army at Fort Dix, New Jersey on June 18, 1942. His civilian occupation was listed as filling station or parking lot attendant. Private Barnett was assigned to Company "C" of the 609th Tank Destroyer Battalion.
The unit shipped out from the New York port on August 11, 1944, and arrived in England on the 22nd. After less than a month of preparations, they boarded transports and shipped to France, landing at Utah Beach, on September 20th. They were equipped with M18 tank destroyers and went into Corps Reserve, beginning on the 28th. The unit was positioned east of Moutier, France, where crews fired artillery missions through October.
During operations in Northwest Europe during the fall of 1944, Company "C" had been attached to Combat Command-B, 10th Armored Division. On December 18, 1944, two days after the Battle of the Bulge began, his company was assigned to the defense of Bastogne, Belgium. According to a battalion document ("Historical Record of 609 Tank Destroyer Battalion for Period 20 September [1944] to 1 January 194[5]"), Private George G. Barnett and Technician 5th Grade Harry D. Greene were "wounded 21 December but were killed by a direct bomb-hit on the aid station, 24 December." The incident was mentioned on page 156 of S.L.A. Marshall's book Bastogne: The First Eight Days: "That night the town was bombed twice. During the first raid, in the late evening, a bomb landed on the hospital of the 20th Armored Infantry Battalion near the intersection of the main roads from ArIon and Neufchâteau. It caved in the roof, burying 20 patients and killing a Belgian woman [Renée Lemaire] who was serving as a nurse."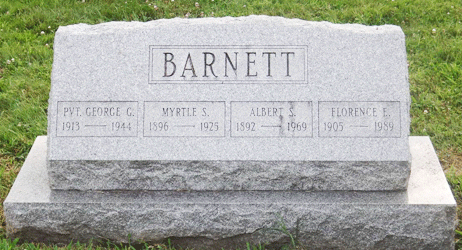 Private Barnett is memorialized at the Ardennes American Cemetery and Memorial near Liège, Belgium as well as on the Barnett headstone in Newark Cemetery, in Newark, Delaware.
He is also remembered on the Newark World War II memorial on the grounds of the Academy building, which is where Lowell initially found out about him in the first place. Special thanks to the Newark History Museum for the use of the main photo of George and thanks also to Find A Grave contributor, Louann, for the use of the grave marker photo.