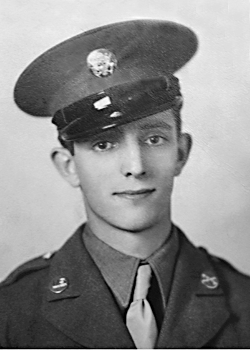 Frank J. Barbiero
Biography: Frank Joseph Barbiero was born on April 19, 1921, in Fort Smith, Arkansas. He was the son of Paul Barbiero and Theresa Marchitto and attended Commercial High School in New Haven, Connecticut, where the family was living at the time. He graduated in 1938, and then went to work as a butcher.
Service Time: Frank entered the service on September 15, 1942, at New Haven, CT. After his initial training, he was assigned to Headquarters Company of the 825th Tank Destroyer Battalion and continued his training with them at various military facilities, including Camp Hood, Texas, and briefly at Camp Phillips, Kansas, before shipping to Devils Lake, North Dakota, to assist with the record wheat harvest.
They participated in the Tennessee maneuvers from November 9, 1943, to January 15, 1944, before moving to Camp Campbell, Kentucky, and then Camp Breckenridge, KY. It was from there that they boarded trains for movement to Camp Kilmer, New Jersey, to make final preparations for the trip overseas. They shipped out from the New York port on May 30, arriving in England on June 5th.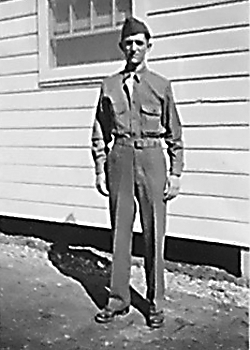 On July 30th, the men finally went ashore at Utah Beach in Normandy, France. The unit was assigned to the Communications Zone and 12th Army Group security duties between August and December, 1944, and on December 17th, the battalion entered combat near Malmedy, Belgium. On January 16, 1945, they returned to security duties.
The unit received credit for campaigns in Northern France, Rhineland, the Ardennes and Central Europe. Frank was awarded the EAME, the WWII Victory and the Good Conduct Medals. He left the service at the rank of Technician 4th Grade.
Now back in the U.S., Frank returned to New Haven and found work as a freight salesman. On October 7, 1946, he married the former Antoinette Rita Griego who was born in New Haven and was the daughter of Antonio Griego and Antoinette Conte. The new couple would make their home in New Haven and have a son, Paul, born in 1954.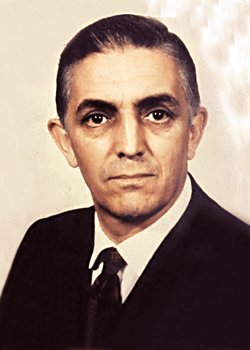 In his spare time, Frank enjoyed repairing radios and playing the violin. He was also a member of the Knights of Columbus. Frank passed away on November 30, 1969, and was buried in the St Lawrence Cemetery in West Haven, CT.
I want to thank Frank's son, Paul, for providing the information and photos for this tribute.