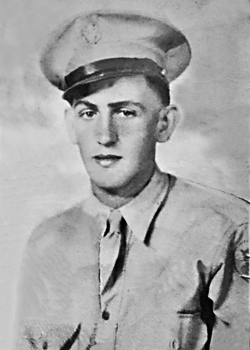 Lloyd C. Becker
Biography: Lloyd Claude Becker was born on January 5, 1925, in Prattsville, New York. He was the son of Charles Becker and Maud Christian and attended local schools through the 9th grade. His life as a youth was a simple one, which included tobogganing, speed skating and barrel ice jumping. He was asked to try out for the Olympics but the expense to train and travel to the event were beyond what the families could afford.
He lived on a 250 acre dairy farm and worked as a sales clerk in a grocery store. As soon as he was able, he hitchhiked to Albany to enlist.
Service Time: Lloyd entered the service on April 8, 1943, at Albany, NY, and after his initial training, he was sent to Camp Hood, Texas, where he was trained as a tank destroyer soldier. We are not sure of his military service after his time at Camp Hood but we believe he was either assigned to a TD unit that was later disbanded or he may have gone directly into a non-TD unit. His military specialty is identified as a Duty Soldier III but he also served as a radio operator.
He shipped out on July 15, 1944, to the European Theater and would receive credit for campaigns in the Rhineland and Northern France. He received some type of line-of-duty but non-combat injury to his left knee. His injury required him to be brought back to the states and he arrived on January 23, 1945. We expect that he received some type of treatment but he also continued his military training, qualifying as a marksman with the M1903 Rifle on October 30th.
Lloyd's knee injury was severe enough to ultimately require him to receive a knee replacement later in life. He had been assigned to the Headquarters and Headquarters Battery of the 4th Regiment, FA RTC, and was discharged on January 15, 1946, from the Regional Station Hospital at Fort Bragg, North Carolina. At the time of his discharge, Lloyd held the rank of Private First Class and was awarded the EAME, American Theater, WWII Victory and Good Conduct Medals.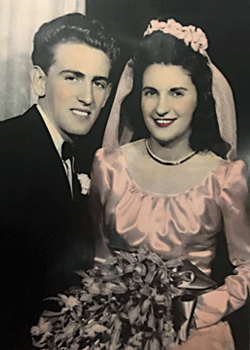 Lloyd stayed at Fort Bragg as a civilian and operated the PX (Post Exchange) on the base. On February 20, 1945, he married Eleanor Dorothy, who was born in Brooklyn, NY, and was the daughter of Dominic and Rose. The couple ran the PX together and Lloyd used the GI Bill to go back to school and learn sewing machine mechanics. The couple moved to East New York, Brooklyn, where Lloyd worked for Robert Hall clothing manufacturer in Bensonhurst, NY.
A number of the employees at Robert Hall were former prisoners in Nazi prison camps. It was a regular occasion for him to bring a few home for supper once or twice a month. In 1961, he left Robert Hall to work for Super Toy Discount in Seaford, Long Island, NY. He worked 18 hours a day as a manager for the company. Two years later, he left Super Toy and went into business for himself, making slipcovers and draperies. In the late 1970s, he started manufacturing woman's plastic see-through security handbags for department stores, which he continued until his retirement.
Lloyd's only vacations were to visit his family in Plattsville and his hobbies were limited to stamp collecting. He did love his family, which had grown to include three grandchildren and seven great grandchildren. He was also a lifetime member of the Third Order of France. Sadly, Lloyd's knee replacement was one of the first put in by the VA (Veteran's Administration) and would cause him pain for the rest of his life. He was placed on full disability because of it and the VA provided him with special adaptions for his car so he could drive.
Lloyd passed away on November 13, 1982, and was buried in the Calverton National Cemetery in Calverton, NY. I want to thank Lloyd's son, Lloyd Charles, for providing the information and photos for this tribute. Thank you also to Find A Grave contributor MikeM for the use of the grave marker photo.