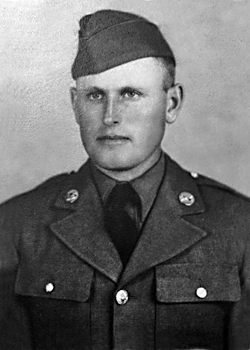 Elmer O. Berg
Biography: Elmer Oscar Berg was born on May 26, 1912, at the family's farm home, in Lakes Coulee (Preston) Wisconsin. He was the son of Almer Berg and Christine Rokkerud Berg and while he was young, the family moved to Crosby, North Dakota, where Elmer attended primary and high school. After leaving school, Elmer worked on his brother-in-law's (Lloyd Hjerleid) farm and at some point as a coal miner.
Service Time: Elmer entered the service an was initially assigned to an artillery unit. He was later transferred to Company B of the 776th Tank Destroyer Battalion and functioned as a radio operator for the unit. Various components of the 776th had begun assignments as coastal and installation guards in various locations in the Northwest. The unit trained at Camp Hood, Texas, and on January 14, 1943, they shipped out from the New York Port of Embarkation.
The unit had been issued M10 tank destroyers while still in the U.S. They arrived in Casablanca, Morocco, on January 25, 1943, and fought in the area of Maknassy and Ferryville, Tunisia. Eighteen enlisted men participated in the Sicily campaign as radio operators and military police, debarking in the vicinity of Cappaci, Italy, beginning on September 19th. The main body was committed near Rotondi on October 10th, where it supported the Volturno River crossing and later the Rapido River crossing, fighting near Cassino from January through March, 1944.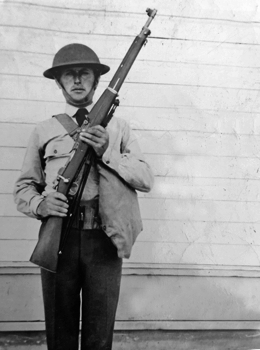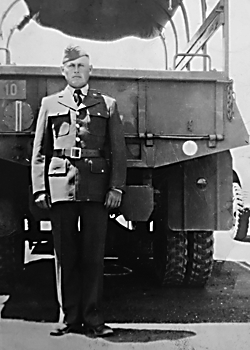 They joined the breakthrough of the Hitler Line in May, 1944, entering Rome on June 4th and joining the drive to the Arno River. The 776th transferred to southern France in September and October, 1944, during which time they drew M36 tank destroyers. They moved into the line near Luneville on October 30th and supported the French 2nd Armored Division's advance to Strasbourg in November.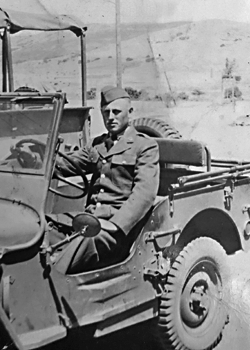 The B Company history by James Montgomery identifies that on December 11th, "3rd Platoon 0900 hrs moved from woods 66.9-46.8 to ROHRBACH (France) and later to MAIERHOFF. Platoon was in support of tanks and infantry. B-553 opened fire at range 900 yards at 2 Mark VI tanks that were firing at tanks. After we fired the first shot and missed he ceased to fire at the tanks and started to fire at us. The first shot missed and we threw 2 more A.P.C (Armor-Piercing Capped) at him and they bounced off, and his second shot hit us and the tank (TD) exploded. Lt. Bratland, T/5 Metzdorff and Private Berg and Corp Freelander jumped out. The enemy then threw an H.E. (High Explosive) shell and it hit between Freelander and Berg and then the tank poured M.G. (Machine Gun) fire on the 4 men, Lt. Bratland and Metzdorff were able to get away. Pvt. Berg was picked up by aid men, but the tank (TD) was on fire and exploding and the M.G. was still spraying the area so they could not get to Freelander. Tank hit coordinates 68.95-50.35." Further research indicates that Cpl. Arnold E. Freelander did not survive the incident.
The injuries to Private Elmer O. Berg received were very serious, causing him to be evacuated to a field hospital and later shipped home. Nineteen months later, on July 9, 1946, he was discharged at the rank of Private First Class from the O'Reilly General Hospital in Springfield, Missouri. The hospital was built to provide long-term care for soldiers returning home from the war. Elmer's discharge was identified as being by reason of CCD, which stands for Certificate of Disability for Discharge. Elmer received credit for the campaigns of Tunisia, Naples – Foggia and Rome – Arno. He was awarded the EAME, American Theater, Good Conduct medals and the Purple Heart in recognition of his injuries.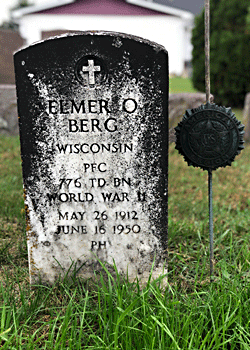 After the war, Elmer made his home in Kalispell, Montana. As identified previously, Elmer was disabled and continued to suffer from his WWII injuries. These injuries would lead to other health difficulties and eventually to his death, on June 16, 1950. He was buried in the Resthaven Cemetery located in Blair, WI.
I want to thank Elmer's great-niece, Chandra, for providing the photos and information used in this tribute.