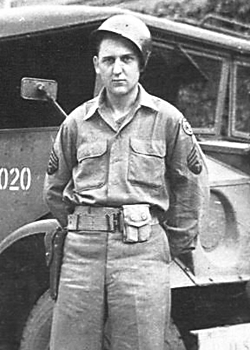 Francis J. Blatterspiel
Biography: Francis J. Blatterspiel, "Frank", was born on October 18, 1918, in Long Island, New York. He was the son of Frank Blatterspiel Sr. and Katharine Goeble and attended local schools through the grammar levels. After leaving school, he worked on the family farm.
Service Time: Frank entered the service on December 21, 1942, at Newark, New Jersey. After his initial training, he was assigned to Company A of the 610th Tank Destroyer Battalion, which had been activated on April 11, 1942, at Camp Barkeley, Texas, as a towed anti-tank gun battalion. The unit trained within the U.S., at a number of military facilities, including Camp Bowie and Camp Hood, TX, Camp Forrest, Tennessee for the Tennessee maneuvers and Camp Atterbury, Indiana, among others. Frank received special training to become the driver of a tank destroyer.
They were finally sent to Fort Dix, New Jersey for final preparations before deployment. Thinking they were headed overseas, they were sent to Camp Kilmer, New York but they were soon headed back to Fort Dix. They were again sent to Camp Kilmer and this time, on June 3, 1944, they boarded the Dutch Liner, Nieuw Amsterdam and sailed for the United Kingdom.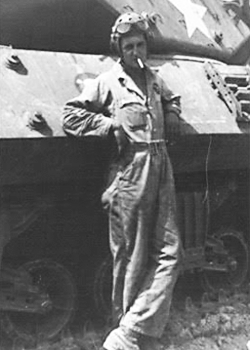 They arrived in Greenock, Scotland, on June 11th, and just over a month later, they were boarding transports for France. They landed at Utah Beach on July 31st and were committed to action on August 10th near Craon, France, and participated in the elimination of Falaise Pocket. Racing east to the Moselle River by September, they converted to the M36 tank destroyer in September and October, and were the first unit to do so. The 610th helped clear Maginot Line fortifications in November and were then ordered to the Ardennes on December 21st, helping to eliminate the Bulge in January 1945. They battled through the Siegfried Line in February near Brandscheid but were then transferred back south in March, crossing the Rhine at Worms on March 29th. The unit raced through central and southern Germany in April and reached the vicinity of Munich by month's end.
The unit received credit for campaigns in Northern France, Rhineland, the Ardennes and Central Europe. Frank left the service on November 28th, at the rank of Technician 4th Grade.
Now back in the U.S., he made his home in Jutland, New Jersey. In 1948. Frank married the former Cora Heitzman who was born in Phillipsburg, NJ and was the daughter of Thomas Heitzman and Rheta Crevling. The new couple would have two children, Ralph, born in 1950, and Rheta in 1951. Frank worked as an equipment operator and the Lehigh Valley Railroad, then FL Smidth & Company and finally, the New Jersey State Highway Department. In his spare time, Frank enjoyed hunting and fishing and was a steam railroad hobbyist. He also was a member of the Veterans of the Battle of the Bulge group, the VFW and the Army National Guard.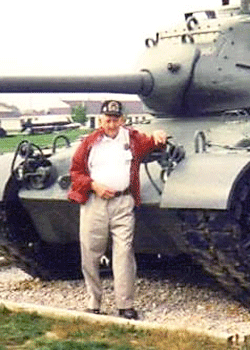 In 1983, they moved to Apache Junction, Arizona and then to Payson, Arizona before moving back to New Jersey in 1998, where they remained until his death on June 22, 2002. After a small funeral service in Clinton, NJ, he was cremated and his ashes were spread over the mountains of northern Arizona.
I want to thank Frank's son, Ralph, for providing the photos and information used in this tribute.