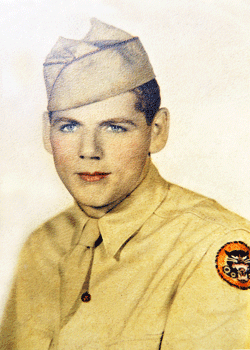 John E. Burnham
Biography: John Edward Burnham, "Jack", was born on June 6, 1922, in Baltimore, Maryland. He was the son of Frank Mortimer Burnham and Marie Rock. His parents relationship would end in the early 1930s when Jack was only 10 or 11 and his mother would later marry Stanyslaw Lanarsky. Stanyslaw was a decorated WWI veteran, who had immigrated to the United States, from Zerby, Russia in 1906. During WWI, he had been awarded the French Croix de Guerre for "showing great control and coolness in rallying his platoon". He had remained in the Army and was based at Fort Howard, MD. At some point, prior to 1942, he was assigned to Fort Myers in Virginia, and the family moved there.
Jack dropped out of school when he was 16 and found work as a carpenter. Just prior to the war, beginning in December 1941, he began working at Fort Meyers, VA, doing general carpentry work, which included building wooden structures on the base and concrete work.
Service Time: Jack enlisted on December 29, 1942, at Charlottsville, VA, and went into active service on January 5, 1943, at Camp Lee, Virginia, where he would also take basic training. He was assigned to B Company of the 817th Tank Destroyer Battalion and transferred to Camp Bowie, Texas. It was during his early training that Jack qualified as an Expert with the Thompson Sub-machine gun, the M1 Rifle and the 3″ Sub Caliber. Jack served as a gunner throughout his time with the unit.
The unit trained at Camps Bowie and Hood in Texas, Camps Phillips and Riley in Kansas, Camps Campbell and Breckenridge in Kentucky, the Tennessee Maneuver Area and finally on to Camp Miles Standish, Massachusetts, and eventually overseas shipment. They also spent about five weeks assisting with the wheat harvest in Langdon, North Dakota, mid-August through mid-September.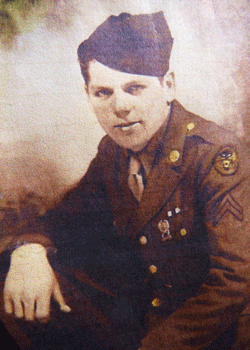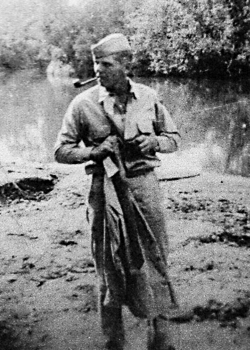 The unit originally trained with self-propelled Tank Destroyers but was converted to a towed battalion in June 1943. They shipped out from the Boston post on July 24, 1944, and arrived at Greenock, Scotland, on July 31st. It was just under a month later that they boarded transports and landed at Utah Beach, Normandy, France on August 25th.
The unit took up rear-area security duties in France and Belgium and guarded COMZ (Communication Zone) from August to November. They entered battle in the Hürtgen Forest with the 8th Infantry Division on December 9th and shifted to Ardennes in February, 1945, and then back to the Roer River sector to fire as artillery. Participating in the advance to the Rhine River with the cavalry, they crossed the river at Remagen, Germany, on March 15th. They were the only towed TD battalion to enter the bridgehead.
The 817th began conversion to M18 tank destroyers on March 26th and joined the 104th Infantry Division at the Ruhr Pocket in April. Two companies joined the drive eastward from Marburg in mid-April, fighting in the Harz Mountains, helping capture Halle, and advanced to the Mulde River where offensive operations ceased.
The only story that Jack shared with his family was when he woke up in a hospital in France suffering from severe frostbite. He recalled being in the snow and how very cold it was but had no recollection of how he got there.
Jack received credit for the campaigns of Northern France, Ardennes-Alsace and Rhineland. He was awarded the EAME, American Theater, WWII Victory and the Good Conduct Medals. He left the service on January 13, 1946, at Fort George G. Meade, Maryland, at the rank of Private First Class.
Jack returned to Baltimore and found work at the Sparrows Point plant of Bethlehem Steel, in their Crane and Tractor Reclaims department. On October 15, 1949, Jack married the former Loretta Elizabeth Madsen, in the Sacred Heart of Jesus Roman Catholic Church. Loretta wasn born in Baltimore and was the daughter of Hugh Lester Madsen and Caroline Elisabeth Zeller. The new couple would make their home in Baltimore and have 6 children, 3 boys and 3 girls. In his spare time, Jack enjoyed playing in a dart league and coin collecting. He also loved to take his boat out and go crabbing and was also an avid Baltimore Colts fan. Jack was a member of the Loyal Order of the Moose and the Dundalk Memorial VFW Post #6694. He retired from Bethlehem Steel in 1981.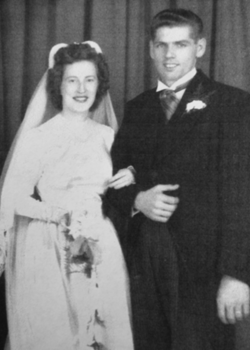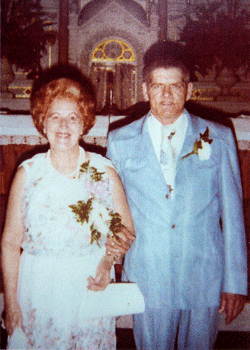 The photo above right was taken on the occasion of the couple's 30th anniversary in 1979.

Jack passed away on October 2, 1988, and was buried in the Baltimore National Cemetery in Baltimore. I want to thank Jack's daughter, Linda, for providing the information and photos for this tribute.