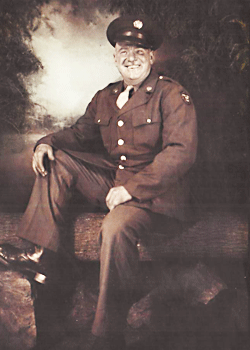 Hillery H. Boles
Biography: Hillery Hobert Boles was born on January 14, 1898, in Robbins, Tennessee. He was the son of Abraham Lincoln Boles and Parthena Pemberton and attended local schools through the 11th grade. He had a sister, Annie and three brothers, George, James and Leonadus.
On December 27, 1921, Hillery married the former Bessie Jeffers who was born in Scott County, TN, and was the daughter of Mountville Jeffers and Julia Long. The new couple would make their home in Robbins and have two children, a daughter Frances Opal born in 1922, and a son James Douglas born in 1924. Sadly, Hillery's relationship with Bessie would end prior to 1930.
He would work at a brickyard in Robbins where his brother George was the company's accountant. Hillery had also worked in the coal mines in the Robbins area. His draft card states that he was working for DuPont, in a munitions job prior to the war but we have no confirmation of this from the family.
Service Time: Hillery's son James, who went by Douglas, had been drafted into the Army but as the story goes, the draft board continued to contact Hillery, so he when down to the local draft board and told them that "If my son can take it, so can I, either draft me or let me alone." It wasn't long until he received his draft notice and was off to the Army. Hillery entered the service on September 10, 1942, at Fort Oglethorpe, Georgia. After his basic training, he was assigned to Company A of the 825th Tank Destroyer battalion and functioned as one of the unit's cooks . The unit would go on to train at a number of military facilities within the U.S.
The 825th sailed from the New York port on May 30th, 1944, aboard the Queen Elizabeth, arriving in Scotland on June 5th. After an additional 2 months of training, the men and equipment were loaded on LST's and arrived on Utah Beach in Normandy, France in July 30th. They were equipped with 3″ towed guns and were initially assigned to the Communications Zone where they performed 12th Army Group security duties between August and December, 1944. The unit received credit for campaigns in Northern France, Rhineland and Central Europe and Hillery left the service at the rank of Private First Class.
When he returned to Robbins, Hillery started working for the town's Road Department, which was reconstructing the Brimstone Road which ran right in front of his home. Hillery operated a jack-hammer used to create holes for dynamite, needed to break up the rock that was prevalent in the area. On one occasion, when Hillery's nephew George was visiting him at his home, a loud explosion of the dynamite, sent Hillery diving for cover, quite possibly a reflex from his time in the service.
Hillery's troubled life, which had started prior to the war, would continue to take him down a troubled path being involved in fights and brushes with the law. His mother passed away on January 12, 1951, and Hillery and a number of other men from the area, moved north to the Cleveland, Ohio, area to work in a rock quarry there. It was there that he got involved in a fight and ultimately died. His death was thought to have been related to the fight but it was actually from a ruptured appendix that he passed away on October 28, 1951. He was buried in the Baptist Memorial Cemetery in Robbins, TN, and although estranged from their father, both Hillery's children Frances and Douglas did attend the funeral.
I want to thank Serge Lemaire for his assistance and to Find A Grave contributors, JoAnn Shoemaker for the photo of Hillery and to JAMorgan for the grave marker photo. I also want to thank Hillery's nephew Howard, for the information he was able to provide.
Hillery's brother Leonadus also served in the Army during WWII, being drafted in January of 1941. Leonadus served in the Pacific theater, as a mechanic, working on the various equipment they used there.