James D. Butler
Biography: James Dallas Butler was born on December 5, 1919, in Lafayette, Tippecanoe, Indiana. He was one of three sons and two daughters born to Harley Walter Butler and Laura Victoria Roth. James graduated from Jefferson High School in 1938, followed by Purdue University where he graduated in 1942 with a Bachelor of Science in Mechanical Engineering.
He entered the military immediately following his graduation. On September 26th, he married the former Elizabeth Louise Sanders, who was also from Lafayette and the daughter of William Butler Sanders and Emma Christina Nehrig.
Service Time: James entered active service in the Army in 1942. He was a Lieutenant stationed at Fort Jackson, South Carolina when he was married in September. It's likely he was in the National Guard prior to active duty. At some point, he was assigned to Company A, 774th Tank Destroyer Battalion. James is listed as a 2nd Lt., assigned as the Mess Officer, on orders dated November 11, 1942, as the unit was moving by train from Camp Forrest, Tennessee to Camp Hood, Texas. He is listed as a 1st Lt. in orders dated August 23, 1943, as the train Quartermaster when the unit moved from Fort Jackson, South Carolina to Camp Forrest, TN. By the time the unit left the U.S., James was a Captain. At some point, he became the commander of Company A.
The 774th shipped out from New York on June 3, 1944, arriving in Gourock, Scotland, on the 12th. They had converted to a towed battalion before arriving in the United Kingdom. On August 7th, they disembarked at Utah Beach, Normandy, France and joined the fighting around Argentan. From there they moved eastward across France to Lorraine as part of a cavalry screen and the 7th Armored Division. Captain Butler was awarded the French Croix de Guerre medal for conspicuous gallantry against the enemy in France. The 774th then participated in the fighting around Metz, France, in September and fought along the Saar River, Germany, in December.
Near the end of January, 1945, the 774th was attached to the 94th Infantry Division. On February 2nd, the First Platoon of Company A, was supporting the First Battalion of the 301st Infantry Regiment, 94th ID, in it's assault on the Campholz Woods. This area is located approximately one mile east of Tettingen-Butzdorf and one mile north of Borg, Germany. On February 4th, Captain James D. Butler was leading his Company A tank destroyers, under heavy enemy fire, in an attack against nearby pillboxes which were holding up the infantry troops. He and his men successfully completed the mission but before he could withdraw, he was mortally wounded. On March 15th, he was posthumously awarded the Silver Star for his actions.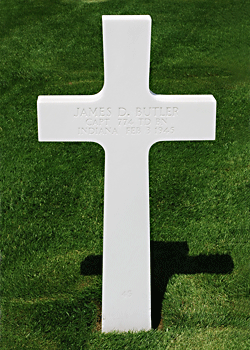 In addition to the previously mentioned awards, Captain Butler would have received the EAME medal, with credit for the campaigns of Northern France, Rhineland and Ardennes-Alsace and the WWII Victory medal. He was posthumously awarded the Purple Heart medal also.
Captain James D. Butler was initially buried in the Hamm Temporary Military Cemetery, Block C, Row 5, Grave 112. He was reinterred at the Luxembourg American Cemetery in Hamm, Luxembourg, Plot E, Row 13, Grave 45. He is also remembered by a marker at the Rest Haven Memorial Park, MISLA, Lot 5, Grave 1, Lafayette, IN, shown in the photo below.
We would like to thank Captain Butler for making the ultimate sacrifice for his country. We would also like to thank Terry Hirsh for providing information used in this tribute. Thank you to Find-A-Grave member "soilsister" for use of the grave marker photo. Thank you also to Find-A-Grave member Ruth Kay for the photo of the Rest Haven Memorial Park rememberence marker.