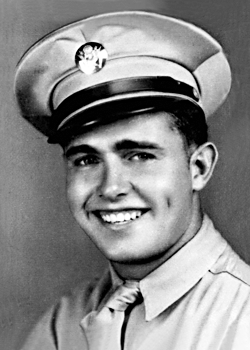 Loyd D. Beckner
Biography: Loyd Dexter Beckner was born on September 23, 1922, in Philippi, West Virginia. He was the son of Dock Franklin Beckner and Virginia Poling "Virgie", and attended Philippi High School. After graduation, Loyd moved to New York City and found work at the hotel, New Yorker.
Service Time: Loyd registered for service on June 30, 1942, and after entering active service with the Army and completing his basic training, he was assigned to Company A of the 610th Tank Destroyer Battalion.
The unit shipped out from the New York port on June 3, 1944 and arrived at Greenock, Scotland, on June 11th. Just over a month later, they boarded transports and landed at Utah Beach on the 31st of July. They were equipped with the 3″ towed anti-tank gun and committed to action on August 10th near Craon, France, participating in the elimination of the Falaise Pocket.
Racing east to the Moselle River by September, they converted to the M36 tank destroyer in September–October and were the first unit to do so. The unit helped clear the Maginot Line fortifications in November. It was on December 10th that during an attack on Aachen, France, allied troops were under intense fire from a concealed enemy tank. Loyd's crew dismounted their TD and moved forward on foot. The enemy tank continued to fire at them but they were finally able to score two direct hits on the hostile tank, destroying it.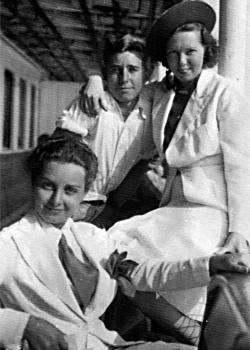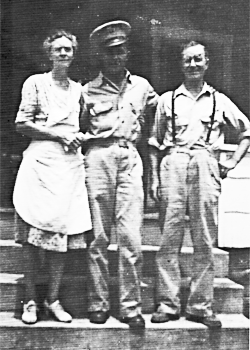 The photo on left is Loyd with his sister Wilma on left and step-sister Blanch Schoonover on right. The photo on right is Loyd, while home on leave, standing with his father Dock and stepmother Nora. Loyd's mother had died when he was only a small child.
They were ordered to the Ardennes on December 21st and helped to eliminate the Bulge in January, 1945. On January 18, 1945, Private First Class, Loyd D. Beckner was killed in action. We do not know the circumstances of his death but we do know that A Company was supporting the 319th Infantry Regiment, in their attack on the enemy, east of Dahl (Luxembourg) and met unexpectedly heavy resistance. The resistance was so heavy that they were forced to fall back. The letter provided below was sent home by Loyd, just three days before his death.
Letter Home – January 15, 1945
Newspaper Article – Loyd D. Beckner KIA
Loyd was buried in a temporary location but was ultimately brought home and buried in the Mount Vernon Cemetery in Philippi, WV, on August 21, 1949. The 610th went on to battle through the Siegfried Line in February near Brandscheid and then transferred back south in March. Crossing the Rhine at Worms on March 29th, they raced through central and southern Germany in April and reached the vicinity of Munich by month's end. They ended the war in Ingolstadt and took up occupation duties.
The unit received credit for campaigns in Northern France, the Ardennes, Rhineland and Central Europe. Loyd received the Purple Heart and posthumously awarded the Bronze Star for heroic achievement for his actions on December 10, 1944, in the vicinity of Achen, France.
In addition to Loyd, two of his brothers also served in WWII. Cpl. Ralph Beckner was in the 137th Infantry Regiment of the Third Army and had been able to meet with Loyd in September 1944, while they were both in France. Ralph had been wounded in France, just one month earlier, in August. Their older brother Herbert was in the U.S. Navy and was stationed in Key West, Florida, at the time of Loyd's death.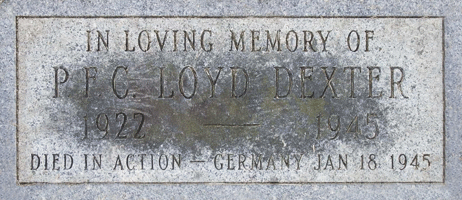 I want to thank Loyd's great-niece Nena, for providing the information and materials used for this tribute. She obtained some of the items from Loyd's sister, Wilma, who just passed away in February of 2021. Wilma recalled paying Loyd to do the dishes for her since she hated to do them. His niece, Nena's mother, remembers him as a very handsome young man and how all the girls would call the house and ask for him.
I also want to thank Find A Grave contributor, Cynthia Mullens, for the use of the grave marker photo.