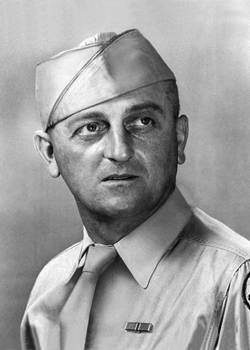 Arthur O. Beyer
Biography: Arthur Otto Beyer was born on May 20, 1909, in Mitchell, Iowa. He was the son of Richard J. Beyer and Anna Louise Rachut, who both immigrated from Luxembourg. He grew up in St. Ansgar, IA, and after the death of his father in 1916, Arthur left school, when he had completed 8th grade, and went to work to help support his mother, younger brother Edwin and older sisters, Wilma and Verna.
Service Time: Arthur entered the service on February 20, 1941, ten months prior to the bombing of Pearl Harbor. He had been living in Ogema, Minnesota, and records indicate that he was working as an auto mechanic. He is quoted as saying he volunteered "to get it over with". After his basic and advanced training, he was transferred to the Enlisted Reserve Corps due to his age, which was 32.
Arthur was recalled on February 25, 1942, and is quoted as saying "my experience with tools and machines had shown up in my army records and I was just the kind of man they wanted for tanks. So I got the call." He was ultimately assigned to Company C of the 603rd, which was issued M18 tank destroyers in October, 1943.
The unit shipped out from the New York port on April 11, 1944, arriving at Cannock, England, on the 18th. They continued their training for the next three months within the U.K. and then boarded transports, landing at Utah Beach on July 21st and 22nd. The 603rd was committed to battle on July 28th during the Cobra breakout. They advanced through Brittany to Brest and then Lorient in August, racing east to the Moselle River sector in September. The 603rd fought east of Nancy, France, in October and supported the push to the Saar River in November. They battled to Sarreguemines in December and were shifted to the Bastogne, Belgiun area to support the counterattack against the Bulge.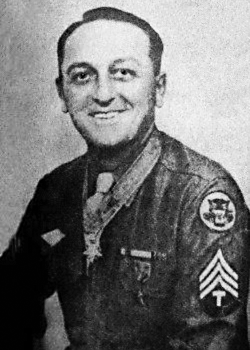 On January 15, 1945, Corporal Arthur O. Beyer performed heroically in action near Arlancourt, Belgium, which earned him the Medal of honor. His citation reads as follows:
He displayed conspicuous gallantry in action. His platoon, in which he was a tank destroyer gunner, was held up by antitank, machinegun, and rifle fire from enemy troops dug in along a ridge about 200 yards to the front. Noting a machinegun position in this defense line, he fired upon it with his 76mm gun killing one man and silencing the weapon. He dismounted from his vehicle and, under direct enemy observation, crossed open ground to capture the two remaining members of the crew. Another machinegun, about 250 yards to the left, continued to fire on him. Through withering fire, he advanced on the position. Throwing a grenade into the emplacement, he killed one crewmember and again captured the two survivors. He was subjected to concentrated small-arms fire but, with great bravery, he worked his way a quarter mile along the ridge, attacking hostile soldiers in their foxholes with his carbine and grenades. When he had completed his self-imposed mission against powerful German forces, he had destroyed two machine gun positions, killed eight of the enemy and captured eighteen prisoners, including two bazooka teams. Cpl. Beyer's intrepid action and unflinching determination to close with and destroy the enemy eliminated the German defense line and enabled his task force to gain its objective.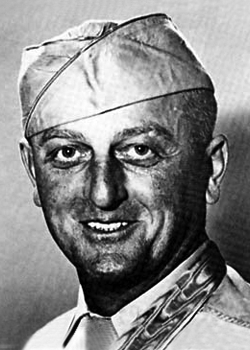 The 603rd crossed the Our river and fought through the Siegfried Line in February, 1945. They moved to the Seventh Army sector in March and reached the Rhine River at Rhine-Durkheim on March 21st. They were reassigned to the Third Army and crossed the Rhine at Oppenheim on the 25th. Attacking through the Fulda Gap toward Erfurt in late March and April, they helped to liberate Buchenwald on April 11th and reached the advanced limit line at Mittweida around April 15th.
Arthur remained in Germany as part of the occupational forces but in August he was given the choice of receiving his Medal of Honor from his theater commander or from the President. He was flown back to the U.S. on priority flights because he was invited to the White House where he was presented with his Medal of Honor by President Truman on the 23rd. His family was flown to Washington to attend the event. In additional to his Medal of Honor, Arthur was also awarded the Bronze Star for his gunnery skills in combat. He was discharged at the rank of Sergeant.
Arthur moved to rural Buffalo, North Dakota, where he found work as a farmhand for Harry Marcks. He was able to purchase a 40 acre farm of his own near Ogema, MN, where he lives, but he still works for Marcks occasionally. In 1962, he married the former Marion Hicks and in May of 1963, the couple traveled to the White House with other Medal of Honor recipients to attend a special reception hosted by President John F. Kennedy. Sadly, Arthur passed away two years later, on February 17, 1965. His funeral was held in Valley City, ND, and he was buried in the Immanuel Lutheran Cemetery in St. Ansgar, Iowa.