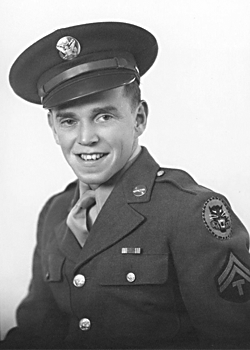 Sidnie Bang

Biography: Sidnie Bang was born on April 14, 1920, in Tronjhiem, Norway. He was one of six sons and four daughters born to Martin Sivertson Bang and Sarah Georgia Pettersdatter. The family arrived at the New York Port on April 12, 1921, with their final destination listed as Spokane, Washington.
He completed two years of high school and his draft card shows he was working for the White Pine Sash Company as a Tailing Man at the saw mill.

Service Time: Sidnie entered the Army on March 14, 1942 at Fort Lewis, WA. He was assigned to Company B of the 607th Tank Destroyer Battalion, stationed at Fort Ord, CA, on March 19, 1942. He trained with the unit at several locations including; Camp San Luis Obispo, Hunter Liggett Military Reservation and the Desert Training Center, all in California, along with Camp Hood, Texas and Camp Cooke, CA. While they originally trained with M10 self-propelled tank destroyers, the unit was converted to a towed battalion, utilizing the M5 3" anti-tank gun, on December 15, 1943.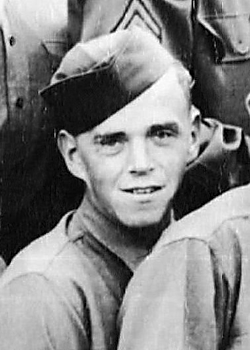 Arriving at Liverpool, England, on April 21, 1944, they continued training. Company B landed at Utah Beach, Normandy, France on June 24th and the 607th supported the advance on Cherbourg, fighting along the Seves River in July. They joined the drive to Le Mans and envelopment of the Falaise Pocket in August, advancing to the Moselle River in September and supporting operations against Metz through late November. The unit converted to a self-propelled battalion equipped with M36 tank destroyers in time for the final assault on Metz.

Sidnie was lightly wounded in action on December 5th, during fighting to take a bridge across the Saar River in Saarlautern, Germany. He returned to duty the same day. Deployed to the Ardennes sector in January 1945, they were soon committed against the Siegfried Line again in early February in the Schnee Eifel area of Germany. He was again lightly wounded, on January 6th.
On February 28, 1945, Sidnie was seriously wounded in action by a land mine near Roth, Germany. He died on March 2nd. He earned the Good Conduct and EAME medals with credit for the campaigns of Normandy, Northern France, Rhineland and Ardennes-Alsace. He was also awarded the Purple Heart Medal with two Oak Leaf Clusters. Technician Fifth Grade Sidnie Bang was buried in the Henri-Chapelle American Cemetery and Memorial, Plot H Row 5 Grave 15, Henri-Chapelle, Arrondissiment de Verviers, Liege, Belgium.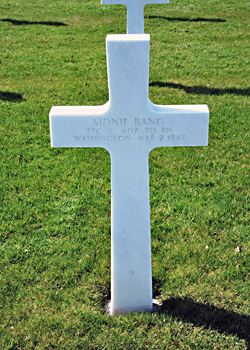 We would like to thank him for making the ultimate sacrifice for his country. Thank you also to Find a Grave contributor Rio for use of the main photo showing Sidnie in his dress uniform. Thank you to Des Philippet for use of the grave marker photo.