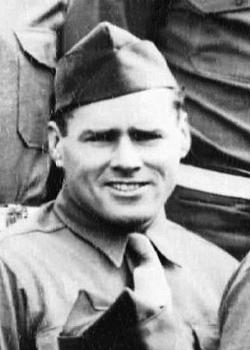 Edward L. Bane

Biography: Edward Lee Bane was born on December 14, 1911 in Murraysville, Pennsylvania. He was one of two sons and one daughter born to Kelly Herman Bane and Jessie Leota Masters. His enlistment record shows he completed one year of college, in 1932, at Fairmont State Teachers College in Fairmont, Marion, West Virginia.
In 1940 he was working at Fairmont Supply Company as a warehouseman. Sometime prior to 1940, he married the former Elizabeth Hoskinson who was from West Virginia and was the adopted daughter of her grandparents, Hammer E. and Dianna Hoskinson.

Service Time: Edward entered the Army on December 28, 1942 at Clarksburg, WV. On January 11, 1943, he was assigned to Company B of the 607th Tank Destroyer Battalion, stationed at Camp Hood, Texas, at that time. He trained with the unit at several locations including; Camp San Luis Obispo, Hunter Liggett Military Reservation and the Desert Training Center and Camp Cooke, all in California. While they originally trained with M10 self-propelled tank destroyers, the unit was converted to a towed battalion, utilizing the M5 3" anti-tank gun, on December 15, 1943.

Arriving at Liverpool, England, on April 21, 1944, they continued training. Company B landed at Utah Beach, Normandy, France on June 24th and the 607th supported the advance on Cherbourg, fighting along the Seves River in July.
Private First Class Bane was awarded a Bronze Star Medal for heroic service during combat on July 24, 1944. We do not have any information regarding the specific actions he was involved in.
They joined the drive to Le Mans and envelopment of the Falaise Pocket in August, advancing to the Moselle River in September and supporting operations against Metz through late November. The unit converted to a self-propelled battalion equipped with M36 tank destroyers in time for the final assault on Metz.
Joining the drive toward the Saar River, they supported the capture of Saarlautern, Germany, and the subsequent fight against the Siegfried Line in December. The unit was deployed to the Ardennes sector in January, 1945 and again committed against the Siegfried Line in February in the Schnee Eifel.

On March 4, 1945, Edward was a crew member in a tank destroyer assisting the infantry of the 346th Infantry Regiment, 87th Infantry Division, who were assaulting the village of Kerschenbach, Germany. The TD was hit by enemy artillery fire and burned. Edward and his crew commander, Sergeant Eddie A. Scott, were both killed during this action. The rest of the crew were wounded. He was credited with four of the unit's campaigns; Normandy, Northern France, Ardennes-Alsace and Rhineland. He earned the American Defense, Good Conduct, EAME and American Theater medals and was posthumously awarded the Purple Heart medal.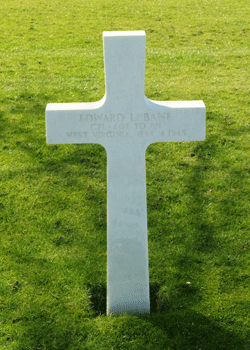 Corporal Edward L. Bane is buried in the Henri-Chapelle American Cemetery and Memorial, Hombourg, Belgium, Block H, Row 2, Grave 25. Thank you to Des Philippet for use of the grave marker photo.

Sergeant Scott is buried in the same cemetery, Block H, Row 1, Grave 8. Thank you to both men for making the ultimate sacrifice for their country.