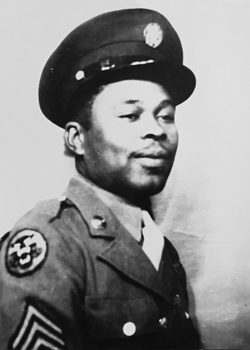 Edgar N. Butler
Biography: Edgar Northea Butler, "Northea", was born on September 19, 1919, in State Line, Greene, Mississippi. He was the only son born to Lawyer John Butler and Flossie M. Dancelor. His draft card, dated October 16, 1940, shows him employed by Lucas and Bregs but we don't know what type of work he was doing there.
Service Time: Northea entered the Army and at some point, he was assigned to 1st Platoon, Company A, 614th Tank Destroyer Battalion. He was soon assigned to Camp Hood, Texas where the unit trained in all aspects of tank destroyer unit skills. They went to the Louisiana Maneuvers and then returned to Camp Hood where they continued to act as school troops for the OCS classes.
Finally, in August of 1944, they moved to Camp Shanks, New Jersey, where they prepared for overseas shipment. The unit shipped out from the New York port on August 27, 1944, and arrived in England on September 7th. A month later, on October 8th, they landed at the Utah beachhead and were initially deployed to Metz, France, later supporting operations against the Siegfried Line in November and December.
On December 7th, the 614th was attached to the 103rd Infantry Division, a pairing that would last until the end of the war. They were shifted to the Hagenau Forest area for a short period and then continued to support operations against Siegfried Line fortifications until late March, 1945. The 614th performed occupation duties in early April and then joined the race to Innsbruck, Austria, and Brenner Pass. The unit received credit for the campaigns of Northern France, Rhineland, Ardennes-Alsace and Central Europe.
On July 2, 1945, Northea is listed as a patient on the hospital ship, USAHT Thistle, which had left Marseilles, France, and arrived at New York, NY that date. There is no information as to why he was on the ship. He was awarded the Good Conduct, WWII Victory and the EAME medals with credit for the campaigns of Northern France, Rhineland, Ardennes-Alsace and Central Europe. He left the military at the rank of Technician Fifth Grade.
We have very little information on Northea's life after he returned to the U.S. Records show him living in Detroit, Michigan from 1983-2002. He passed away on January 18, 2020 and was buried in the Pine Crest Cemetery, Citronelle, Mobile, Alabama. Thank you to Northea's granddaughter, Jamie Delaney, for providing the photograph.