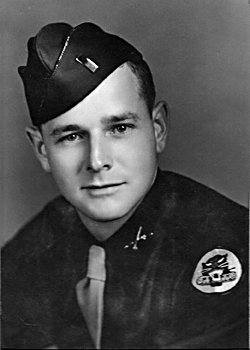 Hubert C. Burton
Biography: Hubert Chandler Burton "Tooby" was one of eight children born January 19, 1920, in Rigby, Idaho. He was the son of Willard Stewart Burton and Cora Chandler and graduated from local schools. While in school, we know he participated in the Photography Club.
He joined the National Guard and was assigned to Company F of the 116th Engineering Battalion, which was an Idaho National Guard unit tracing its history back to 1877. His registration card identifies that he was unemployed just prior to the war.
Service Time: Hubert entered the Army on September 16, 1940, which is the same day that the 116th was inducted into federal service as part of the 41st Infantry Division. Hubert's Company F, became Company D (Reconnaissance) of the 641st Tank Destroyer battalion when it was activated at Fort Lewis, Washington on December 18, 1941. HQ Company and Companies A, B and C, were from anti-tank units of the 66th Artillery Brigade.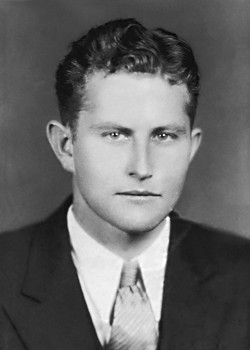 Not only was Hubert now in the 641st, but his brother Robert "Bob" was also serving in the unit. The unit was originally a Light Towed Battalion during their training and when they shipped from the New York port of embarkation on March 4, 1942, aboard the USAT Uruguay. They arrived in Melbourne, Australia (via the Panama Canal) on April 9th and continued to train and prepare for action for over 9 months, until they set sail and arrived in New Guinea on January 21, 1943.
The 641st entered combat in May, 1944, and were redesignated as 98th Chemical Battalion (Motorized) on June 24th. Landed in the Philippines on Jan. 9, 1945, and were redesignated as 98th Chemical Mortar Battalion on Mar. 20, 1945. The unit returned to U.S., landing at Los Angeles Port on December 24, 1945, and were deactivated two days later on the 26th, at Camp Anza, CA.
After returning to the U.S., Tooby continued his studies at the Woodbury College and Jeppson Art Institute which were both located in Los Angeles. On May 3, 1958, Tooby married the Janice West in Santa Clara, CA. Tooby would became a talented artist and teacher and would later become the resident artist at the Old faithful Inn, in Yellowstone National Park. His paintings of the park would be exhibited all over the world as visitors to the park would take them to hang in homes and buildings.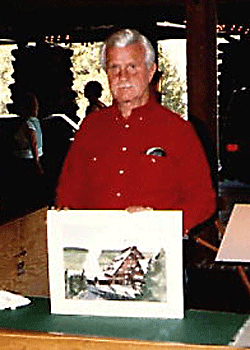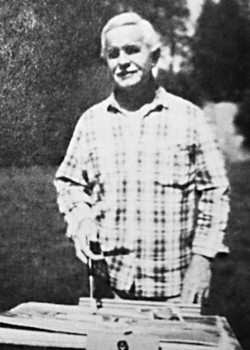 After Janice's death, Tooby married the former Doris D. Thomas. The couple would make their home in Kansas. Tooby passed away on October 17, 2004, and was buried at the Maple Hill Cemetery in Kansas City, KS.