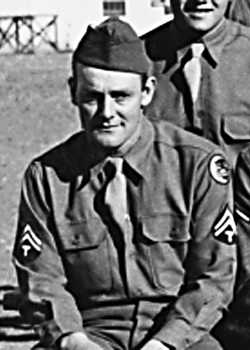 Cornelius Brower
Biography: Cornelius Brower was born on March 18, 1915, in Sioux City, Iowa. He was one of three sons and four daughters born to Cornelius Brower and Niessina Sieders. His mother and father both emigrated from Holland in 1882 and 1889 respectively.
On December 10, 1938, he married the former Ina Leotta Phillips in Union County, South Dakota. She was born in Volga, SD. The 1940 U.S. Census, taken in April of that year, indicates he was working as a laborer at a packing plant. His draft card, dated October of the same year, shows he was working for the Great Northern Railroad in Sioux City. His enlistment record states he completed grammar school.
Service Time: Cornelius entered the Army on May 5, 1943 at Camp Dodge Herrold, Des Moines, Iowa. He was eventually assigned to Third Platoon, Company C, 656th Tank Destroyer Battalion.
The unit shipped out from the New York port on December 16, 1944, and arrived in England on the 28th. After some additional training and preparations, they boarded ships and set sail, disembarking at Le Havre, France, on February 6, 1945.
The 656th entered the line near Friesenrath, Germany, on February 28th, attached to the 9th Armored Division. They began crossing the Ludendorff Bridge at Remagen, Germany, on March 8th. Sometime in March, Cornelius was seriously wounded by artillery fire and evacuated. He was soon sent back to the U.S. for further care and rehabilitation at his home in April.
Company C and the 2nd platoon of Recon Company were awarded a Distinguished Unit Citation for actions between Feb 28 and March 9, 1945. Cornelius earned the following medals during his service time: American Campaign, EAME Campaign (with credit for the Rhineland campaign), Good Conduct, World War II Victory, and the Distinguished Unit Badge.
After recovering from his wounds, Cornelius eventually went back to work at the railroad. The 1950 U.S. Census shows he was working as an auto mechanic, at a body and fender repair shop, called Soo Line Up, in Sioux City. Information we have shows he continued to work at the same location into the mid-1950's. Cornelius passed away in September of 1962.