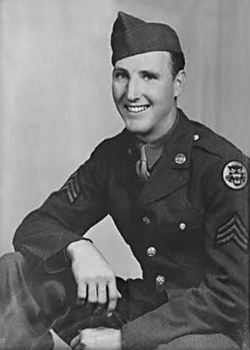 Roy E. Brakeman
Biography: Roy Ellis Brakeman was born on February 1, 1923, in Chloride, Arizona. He was the son of George Wilson Brakeman and Zora Mae Graves and graduated from Kingman High School. He then worked as a surveyor and rodman, who was responsible for transportation and set-up of the necessary equipment for a surveying crew.
On April 27, 1942, Roy married the former Madelyn May Goodale who was born in Bakersfield, California and was the daughter of Fred Goodale and Velma Willard. The new couple would make their home in Bakersfield.
Service Time: On January 6, 1943, Roy entered the service and after his basic training, he was assigned to the Headquarters Company of the 821st Tank Destroyer battalion. His name shows up in the unit's Thanksgiving menu from 1943, at the rank of Sergeant.
The unit shipped out from the Boston port on April 6, 1944, arriving in England on the 17th. After a few months of additional training and final preparations, they boarded transports, crossed the English Channel and disembarked at Omaha Beach on June 26th with towed 3-inch anti-tank guns. They supported the capture of St. Lô and subsequent breakout, entering Brittany in August. They then supported the capture of Brest by September 18th and moved east, in late September, to Holland.
The 821st conducted operations against the Siegfried Line in October near Aachen, Germany, and then transferred to Ubach, Germany, in November, supporting the drive toward the Roer River. Beginning in December, they converted to M10 self-propelled tank destroyers.
It was in December that Roy was hurt while jumping out of one of the unit's half-tracks. he was shipped back too the U.S., specifically Santa Barbara, CA, to recover from his injury. We do not know how long he was there but in October, Roy was transferred to the TDS (Tank Destroyer School) for their towed gun and artillery training. Roy finally left the service at the rank of Staff Sergeant. The 821st went on to receive credit for campaigns in Normandy, Northern France, the Rhineland and Central Europe.
After the war, Roy returned home and found work with the Sanger Herald newspaper as a pressman. He and Madelyn would have a son, Fred, born in 1950. Roy passed away on September 13, 1982, and was buried in the Mountain View Cemetery, Kingman, AZ.
I want to thank Roy's son Fred, for providing the information and photo used in this tribute. Thank you also to Find A Grave contributor, Susan Zmrzel, for the use of the grave marker image.