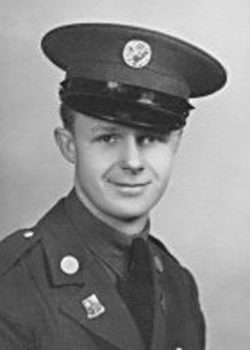 Robert C. Burton
Biography: Robert Chandler Burton, "Bob", was born on February 5, 1922 in Rigby, Idaho. He was one of four sons and three daughters born to Willard Stewart Burton and Cora Chandler. He attended local schools and graduated from Rigby High School.
Service Time: Bob entered the Army on September 16, 1940, which is the same day that the 116th was inducted into federal service as part of the 41st Infantry Division. His Company F, became Company D (Reconnaissance) of the 641st Tank Destroyer Battalion when it was activated at Fort Lewis, Washington on December 18, 1941. HQ Company and Companies A, B and C, were from anti-tank units of the 66th Artillery Brigade.
Not only was Bob now in the 641st, but his brother Hubert was also serving in the unit. The unit was originally a Light Towed Battalion during their training and when they shipped from the New York port of embarkation on March 4, 1942, aboard the USAT Uruguay. They arrived in Melbourne, Australia (via the Panama Canal) on April 9th and continued to train and prepare for action for over 9 months, until they set sail and arrived in New Guinea on January 21, 1943.
The 641st entered combat in May, 1944, and were redesignated as 98th Chemical Battalion (Motorized) on June 24th. They landed in the Philippines on Jan. 9, 1945, and were redesignated as 98th Chemical Mortar Battalion on Mar. 20, 1945.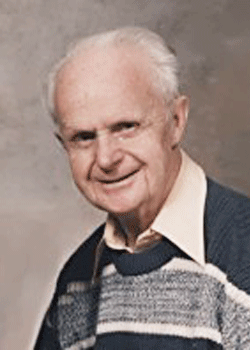 Bob returned to the U.S. in early 1945. On May 5, 1945, he married the former Louise Fielding in Idaho Falls, ID. She was born in Jamestown, ID and was the daughter of Joseph Fielding and Amy Aarve. The 98th Chemical Mortar Battalion didn't return to the U.S. until December 24, 1945 and the were deactivated on the 26th. It is unknown why Bob returned much earlier than the rest of his unit. It is mentioned in their wedding announcement that they would be returning to Santa Barbara, California where he would report to a rest hospital for three weeks followed by re-assignment.
The couple eventually settled in Idaho Falls and had four sons. Bob worked as a Sales Associate in men's clothing for Wade Brothers, then in the shoe department for Sears. He was an active member of The Church of Jesus Christ of Latter-day Saints. Bob enjoyed working in his yard, spending time with family members, and especially loved attending his sons' and grandchildren's ball games.
Robert C. Burton passed away on January 29, 2007, and was buried at the Taylor Cemetery, Idaho Falls, ID. Thank you to Find A Grave contributors, Anonymous and Bill E. Doman for the use of the photos of Bob and the grave marker image.