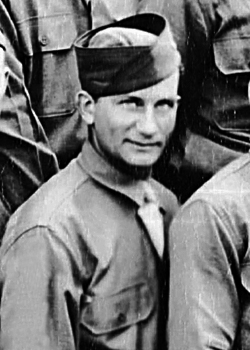 Matthew M. Brydich, II
Biography: Matthew Martin Brydich II "Matt" was born on May 27, 1918, in East Helena, Montana. He was the son of Matt M. Brydich and Mary Suttey, both of whom had emigrated from Yugoslavia. He attended St. Anne's School and worked as a farm hand in his youth. His draft card, dated October 16, 1940, shows he was working as a ranch hand for Paul C. Knapp and Son in Helena, MT.
Service Time: Matt entered the Army on March 17, 1942, at Fort Lewis, Washington. On the 23rd, he was assigned to and joined Company B of the 607th Tank Destroyer Battalion, stationed at Fort Ord, California at that time. He trained with the unit at a number of locations including: Fort Ord, Camp San Luis Obispo, Hunter Liggett Military Reservation and the Desert Training Center, all in California, along with Camp Hood, Texas and Camp Cooke, CA. He was promoted to Private First Class on October 12, 1942 and is listed as a Technician Grade 5 on February 16, 1943. While they originally trained with M10 tank destroyers, the unit was converted to a towed battalion, utilizing the M5 3" gun, on December 15, 1943.
Arriving at Liverpool, England, on April 21, 1944, they continued training. Company B landed at Utah Beach, Normandy, France on June 23rd and supported the advance on Cherbourg, fighting along the Seves River in July. They joined the drive to Le Mans and envelopment of the Falaise Pocket in August, advancing to the Moselle River in September and supporting operations against Metz through November. The unit converted to a self-propelled battalion equipped with M36 tank destroyers in time for the final assault on Metz. Continuing the drive toward the Saar River, they participated in the attack on Saarlautern, Germany, followed by the subsequent fight against the Siegfried Line in December. Matt was promoted to Technician Grade 4 on December 22, 1944.
The unit was deployed to the Ardennes sector in January, 1945 and again committed against the Siegfried Line in February in the Schnee Eifel. Supporting the capture of Koblenz, Germany in mid-March, they crossed the Rhine River at Boppard on March 25. The 607th continued to drive east through Hessen and Thüringen during April and reached the Czechoslovak border near Plauen by mid-April. Thereafter, they remained in defensive positions until VE Day.
Along with a number of other men in the 607th, Matt was transferred to the 602nd Tank Destroyer Battalion on July 12, 1945. On September 10, he was transferred back to the 607th. This was all related to the points system used by the military to determine when a soldier was eligible to return home. He was awarded the Good Conduct, American Theater Service and World War II Victory medals along with the EAME medal and credit for the campaigns of Normandy, Northern France, Rhineland, Ardennes-Alsace and Central Europe. He was discharged in October, 1945.
Matt returned to East Helena and on January 11, 1946, he married the former Violet M. Walsh who was born in Ranger, Texas. She was the daughter of Percy D. Walsh and Grace L. Haney. The couple had two children, Mary and Matt III. The 1950 Census showed Matt was working as a pipefitter at a lead smelter. A 1957 Helena City Directory lists Matt working as a machinist at ASARCO (American Smelting and Refining Company). He was also serving as an Alderman. He and Violet divorced in 1976.
He retired from ASARCO after 35 years as a pipefitter. Matt was an avid pool player, rancher, woodworker and outdoorsman. He was a charter member, life member and past commander of V.F.W. Post 10,010 East Helena. He was active in the V.F.W. most of his life and is best remembered for firing the gun at the East Helena Easter Egg hunt for the first 36 years after its inception. He was a member of the Saints Cyril and Methodius Church, ASARCO 25 Year Club and American Slovenian Catholic Union (K.S.K.J.). For the last 13 years of his life, he helped his best friend and companion, Mae Wing, run her ranch in the Clancy area.
Matt passed away on June 29, 1991, in East Helena. He was buried in the St. Ann's Cemetery in East Helena with full military honors. Thank you to Find A Grave contributor "A Marine's Daughter" for use of the grave marker photo.