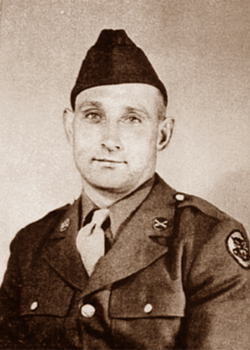 Leslie C. Banaka (602nd)
Biography: Leslie C. Banaka was born on Feb. 16, 1909, in Netawaka, Kansas, to August Henry Banaka and Anna Belle Thomas. He attended Cement school and at one point worked in Kansas City as a dockman. Leslie married Bertha Elmyra Flood on Nov. 12, 1938, but the couple would be separated when he entered the military. At the time of his enlistment, he is listed as living in Denver, Colorado.
Service Time: Leslie entered the service on Dec. 12, 1942, and joined the 602nd Tank Destroyer Battalion. The unit saw action throughout Europe, including operations at Metz, France, in Belgium during the Ardennes Offensive and the Siegfried Line in February of 1945. It was during this time, on Feb. 21, 1945, that Leslie and his crew were killed when their M18 hit a German "Teller" mine near Huldange, Luxembourg. The names of the other dead are, Cpl. Thomas E. Blair (gunner) of Kentucky and Cpl. Lloyd P. Beliles (the driver who died the next day) of Kentucky. Leslie is listed a Corporal at the time of his death.
Leslie was buried at Henri-Chapelle American Cemetery and Memorial in Belgium, Lot E, Row 16, Grave 44. You can see a photo of his grave maker at the end of this text. His grave was adopted by Erwin Verholen who provided the information to me for this tribute. Thank you for what you are doing to honor this serviceman, Erwin!
In addition to Leslie's service to this country, two of his brothers also served. Samuel Banaka served with the 79th Infantry Division and was killed in action on July 12, 1944. Walter E. Banaka served with the US Navy from 1944-46. He was stationed aboard the tanker USS Charles S. Jones, which toured ports in Australia, India, Iran and Egypt.