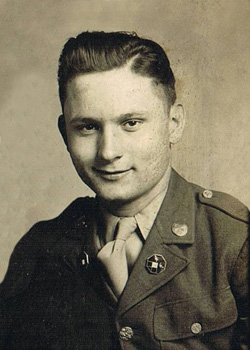 John N. Berezniak
Biography: John Berezniak was born on May 31, 1923, in Koppel, Pennsylvania. He was the son of John N. Berezniak and Anna Kominitsky. He attended Hartman Elementary school and Lincoln High school in Ellwood, PA, graduating in 1941. After graduating, John attended Geneva College for Journalism but left before graduating and went to work for the Ellwood City Forge Corporation.
Service Time: John entered the service on June 6, 1943, in Pittsburgh, PA. He served in the 705thTank Destroyer Battalion, which saw action throughout Europe, landing at Utah Beach, Normandy, in July, 1944, and taking part in the Cobra Breakout through Brittany to Brest, France, as part of Task Force "A". They moved to Aachen, Germany, and participated in the famous defence of Bastogne, Belgium, in December. The 705th received a Distinguished Unit Citation for their actions at Bastogne.
After returning to the U.S., John went back to the Ellwood City Forge for employment where he became the Office Manager. He later married the former Ethalia Millson. She was the daughter of Sidney and Ida Millson, also of Ellwood City, PA. The couple wed on September 12, 1949, and they had nine children, four sons and five daughters. The family remained in Ellwood City and in time, John became the owner of the West End Cafe. He owned the cafe for 52 years. Although he was a hard worker, his family was always his first priority. He and Ethalia were married for 58 years. John also enjoyed golfing, travelling and gardening and was a member of a number of organizations, including the Holy Trinity Ukrainian Orthodox Church in New Castle, PA, and he was a founding member and board member of the Eastern Orthodox Foundation. He was also a member of VFW Post 252, the Girl Scout Council, F&AM (Free and Accepted Masons) #599, Ellwood City Lodge and Syria Shrine.
John passed away on June 1, 2009, at the age of 86 and was buried at the Locust Grove Cemetery in Ellwood City, Pa.
I want to thank the Berezniak family for supplying the information and photos of their father and grandfather.