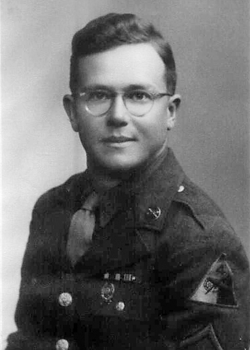 Richard W. Bowman
Biography: Richard William Bowman was born on Nov. 14, 1921, in Kings County, New York. He and his brother, Delbert, were sons of William Bowman and Laurel Estelle Greene. He graduated from high school and went on to Brooklyn College, completing three years.
Service Time: Richard entered the service on Nov. 10, 1942, in New York city. He became a Combat Medic and was assigned to the Medical Detachment of the 704th Tank Destroyer Battalion. While in France, a sniper shot the helmet off his head. Richard was only slightly wounded but it did earn him a Purple Heart. He earned a second award (Oak Leaf Cluster) to add to his Purple Heart medal. In addition, he received the Silver Star, a Bronze Star, the American Campaign, Good Conduct, WWII Victory and the European-African-Middle Eastern Campaign medals along with the Combat Medic's Badge. Richard left the service on October 31, 1945 and reached the rank of Technician 5th Grade. On May 8, 1947, he was awarded the Conspicuous Service Medal by the State of New York.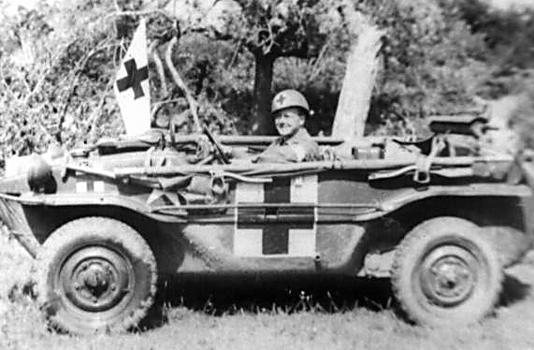 One of Richard's favorite memories was when he and a buddy drove past General Patton in their medical Jeep named "Vitamin B1". The windshield of the Jeep had a bullet hole in it and as they passed Patton, he saluted them.
The photo on left is a German "Schwimmwagen" manufactured by Volkswagen and was literally a "floating" or "swimming" car that had a propeller for use in water. It was left behind and converted for use by the Medical Detachment.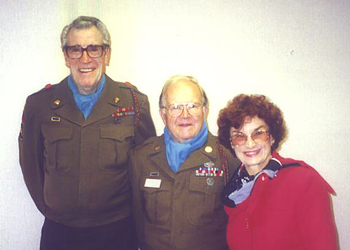 Richard returned to the U.S. and married Lillian Elizabeth. He continued his education at the University of Colorado and became an English teacher for junior and senior high school students in the Patchogue and Kings Park, New York, areas for 34 years. Richard and Lillian would have two sons, Glenn Walker and Wayne Richard.
The photo at left shows (L to R) Larry Bennet, Richard Bowman and his wife Lillian at what we believe was a reunion in Columbus, Ohio on September 30, 1994. Both Larry and Richard were Medics with the 704th Tank Destroyer Battalion.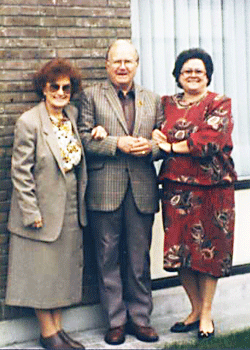 The second photo shows Richard, in the center, with his wife Lillian, on the left, and Erwin Verholen's mother on the right. The Bowmans visited the Verholens' home in Belgium on March 21, 1993. They stayed overnight while the couple was touring in Europe. Erwin remembered how honored he felt at the visit and how much the Bowman's enjoyed the Belgian cookies they were served. Both photos courtesy of Erwin Verholen.
In his spare time, Richard enjoyed collecting vintage cars and he also was a member of the 704th Tank Destroyer Association where he was editor of their "Five Star Review" newsletter based on the five campaigns that the unit had participated in during WWII. Richard had also enlisted in the Air Force National Guard, helping to train recruits who were later sent to Vietnam.
Richard passed away on May 19, 2005, and was buried at the Hauppauge Rural Cemetery in Suffolk County, NY.