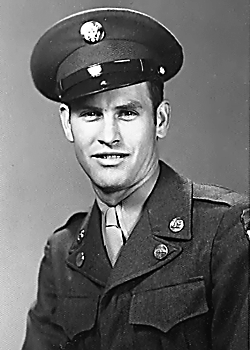 Clifton H. Boles
Biography: Clifton Hartgrove Boles was born on December 7, 1922, in Stokes County, North Carolina. He was the sixth of eleven children, born to Nathaniel Pradie Boles and Powell Lessie Hartgrove. He left school during the 9th grade to work on the family farm. His mother passed away in 1934, so his father placed some of the children on local farms. Clif went to live and work on his uncle Vernon's 100 acre farm, near Germantown, NC.
Service Time: Clifton entered the service on December 9, 1940, at Winston-Salem, NC. He enlistment record lists him as having some experience as a auto-mechanic. He was initially assigned to Fort McClellan, Alabama, where he received his basic training. From there he was sent to Fort Benning, Georgia, and assigned to the newly created 94th Anti-Tank Battalion and Company C.
Clif received additional training as a light truck driver earned a Driver's Badge with qualification bar for wheeled vehicles. He created his own excitement when he hit a large stray hog while riding one of the Army motorcycles. He had a broken leg, which laid him up for a few months during 1941, to recuperate.
The unit was sent to New York, and loaded the H.M.S. Andes, which was a British troop ship of 1915 vintage. The ship had an uneventful crossing with a stop in Nova Scotia on their way to Liverpool, docking on August 17, 1942.
The 894th continued their training in anticipation of planned operations in North Africa. An outbreak of spinal meningitis required the entire unit to be quarantined and miss the initial landings in November 1942. They finally shipped out on January 8, 1943, on the Queen of Pacifico but Clif was not on board. He decided he hadn't seen enough of London and went AWOL (Absent without leave) to go site-seeing. He turned himself in to an MP at the end of the week and received 30 days confinement for the offence. When he was released, he was shipped to Morocco to rejoin his unit.
Sometime between when he arrived in North Africa and mid-summer, Clif was wounded while on patrol. He was in the rear of the vehicle when a mortar shell struck the truck's hood. Both the driver and passenger were killed but Clif was shielded from the blast and was only hit by shrapnel in the hand. He wound carry that scar for the rest of his life.
For some unknown reason, between August 22, 1943 and October 13, Clif was transferred to Recon. Company of the 601st Tank Destroyer Bn. Both units played a part in the North African campaign and were in close proximity after hostilities had basically ended. The 601st was slated for the invasions of Sicily and Italy so they may have needed additional experienced personnel. In any event, Clif would spend the remainder of the war in the 601st.
Clif would again have a scrape with death while on the Anzio Beachhead. The unit was under almost constant fire from German artillery. The men spent much of their days in tunnels and foxholes, trying to escape the shelling. While preparing a meal, an artillery shell landed in the center of a cooking fire that he was tending. Fortunately it was a dud and failed to explode. Clif's letters home were are their lowest point and he sounded almost hopeless. Finally on May 23, 1944, an all out assault was able to overwhelm the Germans and by nighttime on May 24, the unit was moving toward Rome. The tide and spirits were finally changing and Rome fell 10 days later.
On August 8th, elements of the 601st loaded ships to set sail for France. Recon. quickly moved north through France and were greeted enthusiastically in every town they liberated. When they reached the Rhineland area of Germany, Clif would again have a brush with death when he and the driver of their motorcycle found themselves in the midst of a German patrol. Clif and the driver jumped off and ran into the woods. They hid at the edge of a creek, deep within the roots of some large trees. The patrol eventually passed without finding them but the Germans took the motorcycle, so the men ended up walking back to their unit.
The 601st would plan important roles in actions at the Colmar Pocket and the Siegfried Line, finishing at Hitler's mountain retreat, Berchtesgaden, Austria. Clif received his orders to return home and arrived back in the U.S. on October 7, 1945. He left the service from Fort Bragg, North Carolina, at the rank of Technician 5th Grade. He received credit for six of the unit's campaigns, Tunisia, Naples-Foggia, Rome-Arno, Southern France, Rhineland and Central Europe.
Clif went back to working on his uncles' farm and traveled back and forth to Winston Salem to see his future wife Audrey for about two years. In early 1948, he decided to rejoin the Army and did so on February 13, 1948. He picked the Armored Forces and was sent to Fort Knox, Kentucky for training. He was assigned to Headquarters Company at the rank of Pfc. He was then sent to Camp Lee, Virginia, which was the home of the Quartermaster School. Clif completed an 8 week program of Basic Enlisted Supply Specialist Course, completing it on May 7,. He then returned to Fort Knox and became a Record and Supply Clerk with HQ Company.
It was during this same period that on April 3rd, he married the former Audrey Alleen Temples at the Germantown Baptist Church parsonage. She was the daughter of Charles Edward Temples and Carrie Lula Mustin. After a short trip, Clif returned to camp and sent for his bride to be with him at Fort Knox. He was promoted to Corporal but on June 24, 1949, Clif received a hardship discharge and left the service. It is unclear as to the exact reason for the discharge but it may have involved the feelings of his new wife.
The couple stayed in the Winston-Salem area and Clif worked a variety of jobs until about 1960, when he started at a machine shop. He eventually went to a trade school and learned to read drawings and blue-prints, which helped him become a tool and die maker. He remained in that vocation, working for two different small machine shops, until he retired in 1987. The couple would have one child, a son, Terry. Clifton passed away on January 22, 2002, and was buried in NC.
I want to thank Clif's son Terry for his assistance with this tribute as well as his excellent book on his father's WWII experiences. The book is titled "Germantown to Germany….The Military Service of Clifton H. Boles." Not only does the book provide an in-depth view into Clif's time in the military, it also provides interesting view of the actions of both the 894th and 601st TD Bns. The book is available in paperback and by download.