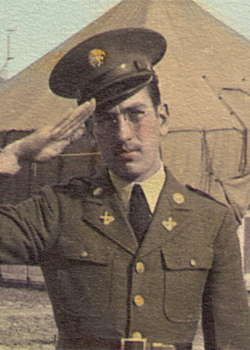 Charles D. Burrier
Biography: Charles D. Burrier was born on February 21, 1919, in Brilliant, Ohio. He was the son of Archer McKinley Burrier and Lurlie Lenora Peoples and attended Washington Grade School and then Lincoln High School, graduating in May of 1937.
Service Time: Charles entered the service on June 21, 1941, at Cleveland, OH. His enlistment record identifies his previous occupation as a filling station attendant. He was assigned to the Headquarters Company of the 692nd Tank Destroyer Battalion and remained with them throughout the war, training at Camp Gordon, Georgia, and seeing action at the Siegfried Line, along the Roer River during the Battle of the Bulge and during the drive from the Roer to the Rhine River. The unit helped capture Cologne, after clearing more Siegfried Line fortifications, and participated in the capture of Furth. Charles was awarded the Bronze Star for his service.
When Charles returned to the U.S., he married the former Mary Elizabeth Carson on May 31, 1946. She was the daughter of Winfield Scott Carson and Elizabeth Noah of Mingo Junction, Ohio. The couple made their home in Brilliant while Charles worked at various jobs at the Wheeling Steel company in nearby Steubenville, OH. They couple had one son, Charles D. Burrier, Jr.
In his spare time, Charles enjoyed a number of outdoor sports including hunting, fishing and golf. He was a member of the Lions Club and the Masonic Temple and Shrine. He passed away on May 3, 1988, and was interred at the Valley of the Sun Mortuary and Cemetery.
I want to thank his Charles' son, Chuck, for providing this information.