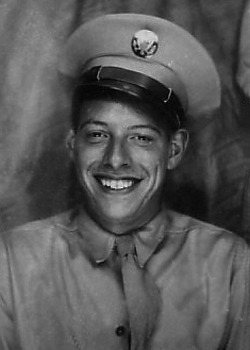 Paul F. Bonito
Biography: Paul Francis Bonito was born on February 25, 1923, in Newark, New Jersey.. He was one of five sons and three daughters born to Michael Bonito and Mamie Samperi. He completed 3 years of high school.

Service Time: Paul entered the service and was assigned to Company B of the 608th Tank Destroyer Battalion. He trained with the unit until it was broken up on December 20, 1943, and he was transferred to the 607th, arriving there on December 27th and being assigned to Company B. The photo was taken on July 13, 1943, while he was still with the 608th. While with the 607th, he distinguished himself by earning a Silver Star, for gallantry in action, on August 19, 1944,
in Sainte-Eugénie/Orne department, Basse-Normandy, France. During this incident, Paul was a member of a 3″ gun crew that was receiving heavy small arms and artillery fire. Becuase of their concealed position, they could not effectively return fire. The entire crew, in the face of enemy fire, seized the trails of the gun and pushed it forward by hand to an exposed position one hundred yards from the enemy's line. From this position, the gun destroyed an enemy tank, four other vehicles, and an enemy self-propelled gun which had prevented the advance of our troops. He was promoted to Private First Class on September 13, 1944.
On December 5, 1944, Paul's tank destroyer was hit by an enemy shell. His close friend, Martin Jackson, went to help him but was restrained by two other men when Paul's TD exploded. Paul was posthumously awarded the Purple Heart and buried in the Lorraine American Cemetery and Memorial, Block G, Row 6, Grave 22, in St. Avold, France.

I want to thank Paul for his supreme sacrifice for this country and William Jackson for providing this information.