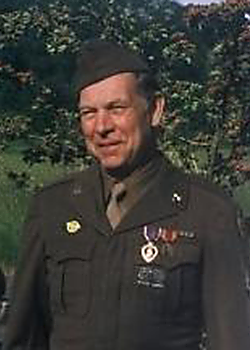 Anthony C. Bielenberg
Biography: Anthony "Tony" C. Bielenberg was born in Nampa, Idaho on January 22, 1922. He was the son of Mathias Bielenberg and Katerina Winter and attended Noble Elementary in Oregon. He left school after eighth grade to work and help support the family. Tony got jobs as a farmer, rancher, horse logger and high lead logger.
Service Time: Tony entered the service on September 15, 1942, from Portland, OR and was assigned to Company B of the 692nd Tank Destroyer Battalion. Not only was he an expert marksman but he was known for cooking-up anything the men found to eat. The photo shown at left was taken on Memorial Day, 1980, and Tony is sporting the Purple Heart he received. The two photos below show him visiting home. He loved his tall horse and had gained some impressive roping skills during his days as a rancher.
Tony didn't have enough points to rotate home after the war so he and others from the unit were prepared to go to Japan for the invasion. He was sent home to await deployment, but the unit was notified of Japan's surrender soon after they returned to the U.S. He was sent home to await new orders, which never came. Tony was discharged at the rank of Tech. Sergeant.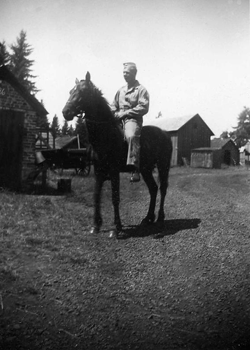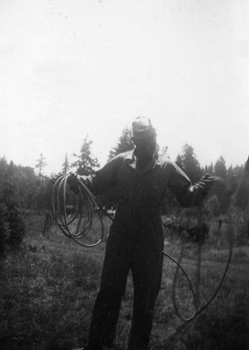 Tony returned to Oregon to work as a truck driver and mechanic for Bielenberg Brothers Garage. He would also hold down jobs as a rock crusher fabricator and heavy equipment operator. On July 28, 1949, he married the former Darline Marie Ward of Portland, OR. She was the daughter of John "Captain Midnight" Ward and Phyllis Flynn. The couple made their home in Scotts Mills, OR, and they had seven children, Dick born in 1950, Judy in 1951, Jim in 1953, Bob in 1954, Jeanie in 1956, Ron in 1959 and Dan in 1964.

Tony enjoyed wine making and made barrels of it almost every fall. He made not only the grape variety, but also fruit, and on one occasion from potatoes when there was no market to sell them. He also worked hard to get his GED in 1974 at the age of 52. He was a member of the Oregon Fire Chiefs Association, the Knights of Columbus as well as the Elks and the 692nd TD Battalion reunion group. Tony passed away on October 4, 1992, and was buried in Scott Mills, OR.
I want to thank Tony's son, Dick, for supplying the information and photos used in this tribute.