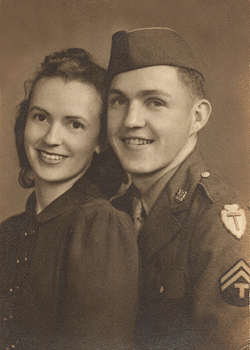 Nolan J. Bland
Biography: Nolan J. Bland was born on September 15, 1920, in Rockdale, Texas. He was the son of Les Alfred Bland and Dewey Blackmon and attended early schools in Rockdale.
Service Time: Nolan entered the service on February 1, 1941, at Fort Sam Houston in Texas. He was assigned to B Company of the 636th Tank Destroyer Battalion, which landed in Africa in April of 1943 and went on to serve in Italy and throughout Europe. The unit received credit for seven campaigns and was awarded the French Croix De Guerre for their accomplishments. Nolan received the EAME Service Medal and Good Conduct Medal and left the Army at the rank of Technician 4th Grade.
Nolan was in the service a little over a year when he married the former Leona Gest on March 7, 1942. Following the war, he returned to her and Rockdale. Leona was the daughter of Fritz Gest and Selma Flisch, also of Rockdale. The young couple stayed in the area and Nolan went to work at the local Alcoa plant as a product tester. They had two sons, Nolan Jr., and James.
In his spare time, Nolan enjoyed fishing and was a member of the American Legion and VFW. He passed away on October 12, 2008, and was buried in the IOOF (Independent Order of Odd Fellows) Cemetery in Rockdale, Texas.
I want to thank Nolan's son, Jim, for providing this information and the photo of his parents.