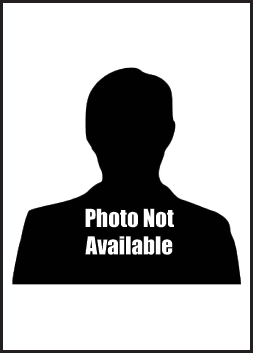 Sam S. Beazer
Biography: Sam Stuteville Beazer was born on September 28, 1923, in Syracuse, Utah. He was the son of Delbert Beazer and Mary Stuteville and attended early schools in Kaysville, Utah.
Service Time: Sam entered the service on January 1, 1943, at Fort Douglas in Salt Lake City, Utah. He was shipped to Camp Bowie, Texas, where he was assigned to the 823rd Tank Destroyer Battalion. Sam then moved with the unit to Camp Claiborne, Louisiana, and participated in the Louisiana maneuvers. The 823rd shipped to England in April of 1944 and saw action at St. Lô. and Mortain, France. On September 2, 1944, while in Belgium, Sam was climbing stairs in some ruins, trying to reach a higher position and a good observation post for fire direction when a sniper's bullet hit him in the upper left thigh and removed some bone. His wound was made more serious by the piece of his uniform that entered the wound and caused gangrene. In December the unit joined operations in the Battle of Bulge through January of 1945. Sam returned to service after the BoB and moved across Germany and over the Roer, Rhine and Elbe Rivers to Magdeburg. The unit received credit for five campaigns including Normandy, Northern France, Rhineland, Ardennes-Alsace and Central Europe. Sam was awarded a Purple Heart for the wounds he received. He left the service at the rank of Pfc.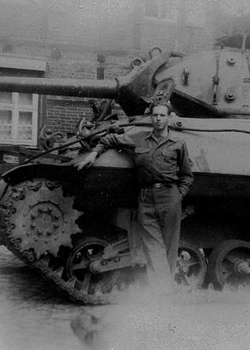 The photo to the left shows Sam posing with one of the unit's M10 Tank Destroyers.
On February 19, 1944, just prior to his unit shipping to England, Sam married the former Eva Theresa LaFleur. She was born in Bunkie, Louisiana, and was the daughter of George Charles Lafleur and Louisa Celeste Sawyer. When Sam returned to the U.S., the new couple made their residence in Bunkie and ran a restaurant there. The family moved to Natchitoches, LA and he entered Northwestern State University to study vocal music. After graduating, his first teaching job was at Lake Providence, LA. The family later moved to Lake Arthur, LA and he taught vocal music. The couple had 3 sons and 2 daughters.
In his spare time, Sam enjoyed listening to music. Sam passed away on November 1, 1997, and was buried in Bunkie, LA. I want to thank Sam's son, John, for providing this information and photo of his father.