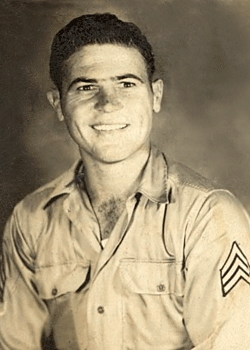 Elvin G. Beeson
Biography: Elvin Gee Beeson was born on April 25, 1923, in Elkhart, Texas, which is in Anderson County. He was the son of John Riley Beeson and Adenia Clark and attended local schools in Elkhart.
Service Time: Beeson, as he was known, entered the service on May 23, 1940, and was assigned to the 602nd Tank Destroyer Battalion. He became a Commander in an M18 Tank Destroyer. The unit served in the European theater, receiving credit for four campaigns; Northern France, Rhineland, Ardennes-Alsace and Central Europe. They specifically supported actions at the Moselle River, the Battle of the Bulge, the town of Metz, France, the Siegfried Line and the Rhine River. On April 4, 1945, portions of the unit assisted in the liberation of the Ohrdruf Concentration Camp. Beeson was one of these men and remembered it this way:
"I have tried to forget everything, but I can still remember that my TD was the first one into the camp. Some of the captives survived and they were climbing all over us. Soon the Captain ordered us back into our TD. There were Germans outside in the woods, so we went and fought them."
When Beeson returned to the U.S., he found work with the Houston Lighting and Power Company at their Magnolia Park facility. It was there that he met, and later married, the former Shirley Ruth Waldrip on January 18,1947. At the time, she was also working at Magnolia Park as a secretary. In 1954, both Beeson and Shirley transferred to Hiram Clarke, where Beeson accepted a head lineman's job. In 1964, he was transferred to Wharton, Texas, as a trouble shooter. He retired in April of 1985 as Foreman of the Transmission and Distribution Division of Wharton, Texas with 39 years of service. The couple had two children, Sharon and Stephen "Gary" Beeson.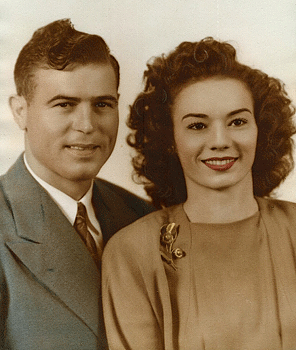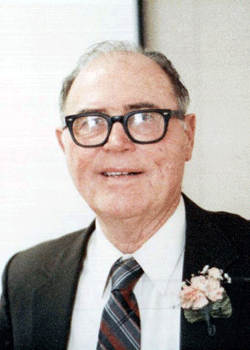 The photo above left is the couple's wedding photo from 1947. The photo of Beeson on the right is from their 40th wedding anniversary.
Beeson was a past master and member of the Wharton Masonic Lodge No.624, AF & AM, a charter member and director of C.C.A.P.(Concerned Citizens Against Pollution), a member of International Brotherhood of Electrical Workers Local No.66, a member of the Iago Federated Church and a 21 year area resident. After his retirement, he enjoyed riding his cutting horse, known only as Paint, and spending time with his children, grandchildren and great-grandchildren.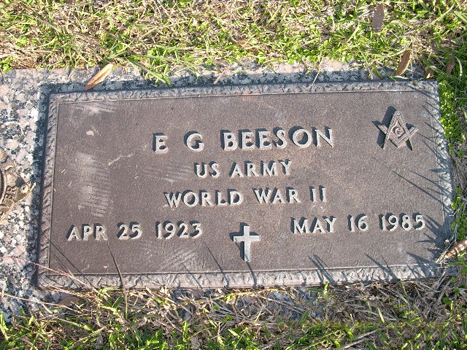 Beeson passed away on May 16, 1985, and was laid to rest in the Evergreen Memorial Park in Wharton, TX.
I want to thank Beeson's son, Gary, for providing the information and photos used in this tribute as well as a large amount of additional information on the 602nd.