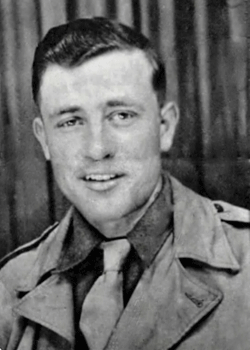 Leonard J. Boteler
Biography: Leonard Joseph Jourdan Boteler was born on March 29, 1921, in New Orleans, Louisiana. He was the son of Lawrence Joseph Boteler and Donetheil Perrilloux. Leonard only attended grammer school before going to work as a painter. As a young man, he enjoyed horseback riding and spent two years serving in the Louisiana National Guard. He married the former Theresa Catherine Templet, who was the daughter of Oscar Pierre Templet and Inell Tullier of New Orleans. The new couple made their residence in New Orleans.

Service Time: Leonard entered the service on September 4, 1942, and spent time in both Camp Hood, Texas and Camp Stoneman, California. He was assigned to Company A of the 771st Tank Destroyer battalion which received credit for the campaigns of Rhineland and Central Europe. Leonard re-enlisted in 1947 and was sent to Japan to serve with the 24th Infantry Division. He re-enlisted again in 1949 for service in Korea with the 24th Quartermaster Company, which was part of the 24th Infantry. It was during this time that Leonard received a Bronze Star for his actions in the battles of Pusan and Pyongtaek. The 24th Infantry and their attached units, including Leonard's, received a Presidential Unit Citation for the Pusan Perimeter in August and September of 1950. He also received the EAME medal, WW2 Victory Medal, Army of Occupation Medal for Japan, National Defense Service Medal, Korean Service Medal, UN Service Medal and the Good Conduct Medal. He left the service at the rank of E-5 (Sergeant).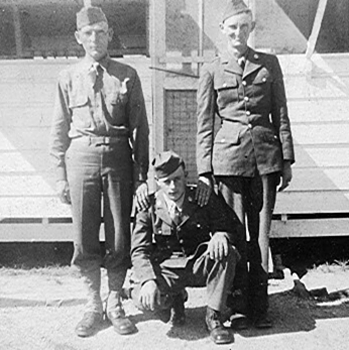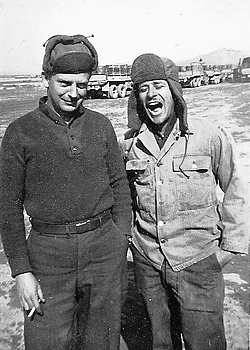 The photo above left was taken while he was with the 771st and possibly while stationed at Camp Hood, TX or in England. Leonard is kneeling in the center. The photo above right was taken while he was in Korea.
During his many years of service, Leonard still managed to raise a family, having five children, Ramona, Dawn, Donald, Daniel and David. He retired and went on permanent disability. Leonard passed away on February 16, 1994, and was buried at the Lake Lawn Cemetery in Metairie, Louisiana.
I want to thank Leonard's grandson, Philip, for his assistance with this tribute and for supplying photos of his grandfather.