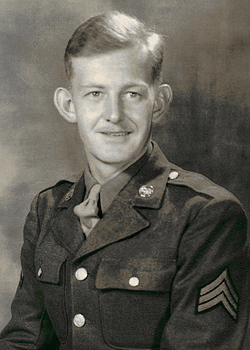 Ralph R. Bernard
Biography: Ralph Robert Bernard was born on August 21, 1917, in Jamaica, New York. He was the son of Robert Bernard and Hilda Persson and attended local schools, completing the 9th grade. He found work in a tree nursery driving trucks and tractors for the business. He also joined the New York National Guard in 1939.
Service Time: On January 13, 1941, the New York National Guard's 102nd Anti-tank Battalion was federalized and later converted into the 802nd Tank Destroyer Battalion on December 15, 1941, at Camp Shelby, Mississippi. Ralph was given the rank of Pfc. and assigned to Company A, serving with them until the end of the war.
The 802nd landed in France on July 1, 1944, as a towed battalion and entered battle near Carentan on July 4. They moved into Brittany and supported the attack on St. Malo in August. Entering Luxembourg in September, they supported operations against the Siegfried Line and participated in Battle of the Bulge in late December. The unit converted to the M36 tank destroyer in February and March of 1945 and crossed the Rhine River at Wessel in early April, joining in the elimination of the Ruhr Pocket. He left the service at the rank of Sergeant.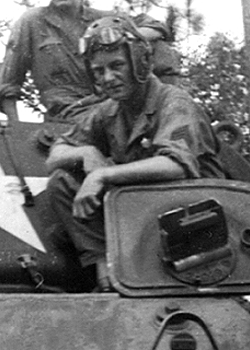 When Ralph returned to the U.S., he also returned to his work at the tree nursery. On October 5, 1947, he married the former Grace Agnes Maltese who was from Fitchburg, Massachusetts. They new couple started their family in Bay Shore, NY and had three children, Robert in 1948, Joanne in 1950, and Ralph Michael in 1959.
Ralph passed away on April 6, 1995, and was buried at Jensen Beach, Florida. I want to thank Ralph's son, Robert, for his assistance with this tribute and the photos of both his father and his crew.