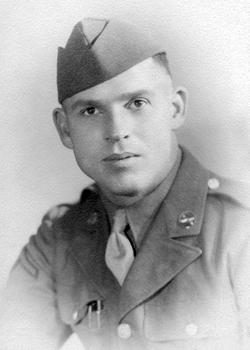 John W. Burns
Biography: John William Burns was born on September 19, 1915, in Beatrice, Nebraska. He was the son of Charles William Burns and Eva Irene Simpson and attended local schools in Beatrice into the 9th grade. After leaving school, he found work as a Nurseryman at Sonderegger's Nursery, in Beatrice, where his father was the foreman.

Service Time: John entered the service on February 22, 1942, at Fort Leavenworth, Kansas, and was assigned to the Reconnaissance Company of the 636th Tank Destroyer Battalion.
Enlistment Notice – Beatrice Daily Sun, Dec. 1941
Induction Article – Beatrice Daily Sun, Feb. 20, 1942

He received training at Camp Bowie, Texas, Camp Blanding, Florida and Camp Edwards, Massachusetts, qualifying with a Thompson Sub-Machine gun. It was during his time at Camp Edwards that he and a buddy, and the buddy's date, were at the Cocoanut Grove on the evening of November 28, 1942. That night the nightclub caught fire and 492 people died, thankfully John and his companions escaped through a broken out window.
John took up his specialty position as cook for the Recon. company and his talents served the men well through Africa, Italy, France, Germany and Austria. At times, he was the only cook of his unit at the front line.
Wounded and Hospitalized Article – Beatrice Daily Sun, June 12, 1945
After being wounded by a mortar round and receiving shrapnel injuries to his abdomen, arms and legs, John spent some time in a hospital before returning to his unit. After the war, he needed to see a doctor and ended up going and seeing a familiar face, Clarence R. Brott, who was his Army Surgical Assistant at the field hospital. This relationship continued with Dr. Brott becoming the family's long-time physician, delivering both of John's children.
John received credit for five of the unit's campaigns, including Naples – Foggia, Rome-Arno, Northern France, Rhineland and Central Europe. Just prior to shipping home, he was transferred to the 48th Tank Battalion until he had enough points to come home. He was discharged at Fort Leavenworth on September 26, 1945, at the rank of Technician 5th Grade and received the Good Conduct Medal.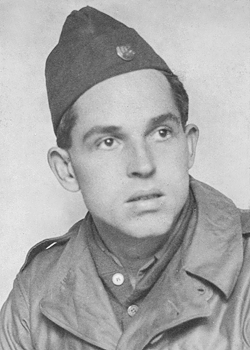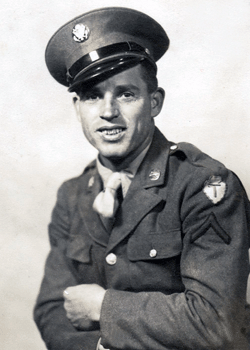 The far left photo was taken in 1943 while the unit was in Italy. The story was that John and another soldier buddy went into an Italian photographer's shop during fighting in the Naples area and "convinced" the photographer to take their photos. In later years, his wife always felt you could see the fear from the battle in his eyes. The 2nd photo was taken in 1945, probably after he had left the service.
After returning to the U.S., John returned to work at Sonderegger's Nursery and later worked for the Nebraska Department of Roads. On September 16, 1948, he married the former Iris Nadine Suggett who was the daughter of Sidney R. Suggett and Bessie Hedge. Iris was born in Oketo, Kansas. The new couple made their home in Beatrice, NE, until 1958, when they moved to Plymouth, NE. They had two children, Charles, born in 1953, and Linda in 1954.

In 1950 he hired on as a factory maintenance worker at Store Kraft Mfg. Co. of Beatrice, NE. He retired in January of 1980 after nearly 30 years there. After he retired, John enjoyed building furniture, especially for children. He also enjoyed gardening. John was a member of VFW Post #1077 in Beatrice, NE and the American Legion Post #243 in Plymouth, NE. It was this post that sponsored the annual Plymouth Nebraska Veteran's Day Celebration, which has included a parade for 65 consecutive years. John passed away on September 15, 1997, and was buried at the Evergreen Home Cemetery (Veteran's section) in Beatrice, NE.
I want to thank John's son, Charles, for providing both photos and documentation on his father as well as materials on the 636th.