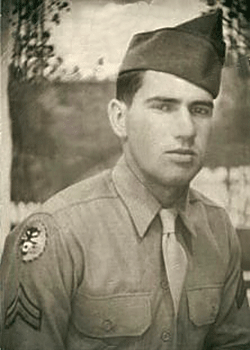 David E. Bruner Jr.
Biography: David Edward Bruner Jr. was born on July 23, 1924, in Loogootee, Indiana. He was one of fourteen children born to David Edward Bruner and Edna Beula Robinson and attended Loogootee High School, completing the 11th grade. When he wasn't in school, he worked on his father's farm and did odd jobs to help the family.
Service Time: David entered the service on December 18, 1943, at Evansville, IN, and began training as a replacement. He qualified as a sharpshooter with the carbine and an expert with the rifle. On May 22, 1944, just prior to shipping to the E.T.O., he married the former Helen L. Phillips of Orange County, IN. David then shipped out and was assigned to Company A of the 899th Tank Destroyer Battalion late in 1944.
It wasn't long until he and his TD engaged the enemy and his tank destroyer was hit by enemy fire, throwing him from the TD. He was thought to be dead by the Germans who proceeded to toss grenades into the TD assuring that everyone else was dead. David, whose nose had been severed, was stitched up and sent back to the U.S. to recuperate. His wife was not informed that he was in the U.S. and before long, he was shipped back to his unit.
David received credit for two of the unit's campaigns, Rhineland and Central Europe. He also received the EAME Theater Medal, American Theater Medal, the WWII Victory Medal and the Good Conduct Medal. Although given the Purple Heart, he refused it but still received the Purple Heart magazines for many years after the war. He left the service at the rank of Sergeant.
David returned to the U.S. and he and his wife made their residence in Paoli, IN. He found work as a Packing Foreman at Cornwells, also in Paoli, and later worked as a dynamite man for Ralph Rogers. He then became owner of the Nubar Tavern until 1993. When he wasn't working or spending time with his family, David enjoyed coin collecting, arrowhead hunting and refinishing old clocks. He also enjoyed golfing and watching Indiana University basketball, "Go Hoosiers". He was a 32nd degree Mason and a member of the Loogootee Methodist Church.
The couple also took time to raise a family, having three girls, Diane born in 1945, Denise in 1954 and Dee in 1964. David passed away on December 23, 1995, and was buried in Paoli, IN. I want to thank David's daughter, Denise, for providing this information and photo of her father.