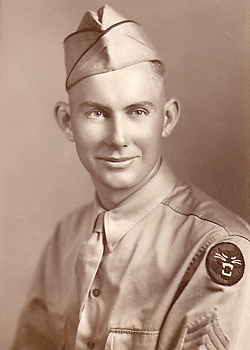 Harvey W. Bensink
Biography: Harvey W. Bensink was born on December 29, 1920, in Clymer, New York. He was the son of Fred G. Bensink and Clara Fox Bensink and attended Clymer Central High School, graduating in 1939. Prior to his entry into the service, he worked at various jobs including an oil tank driver, a school bus driver and a factory worker.
Service Time: Harvey was assigned to the Headquarters Company of the 817th Tank Destroyer Battalion and trained with them at various locations throughout the U.S. including, Camp Bowie and Camp Hood, Texas, Camp Campbell and Camp Breckenridge, Kentucky, and Camp Miles Standish, Massachusetts.
Harvey shipped ovreseas with the unit, landing at Grenock, Scotland, and later at Utah Beach in Normandy, France. As a towed battalion, the unit made their presence known through France, Belgium and Germany and participated in actions in the Hürtgen Forest, at the Rhine and Roer Rivers and in the Harz Mountains. The unit received credit for the campaigns of Northern France, Rhineland and Central Europe.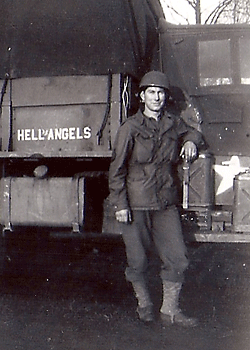 Harvey received the EAME Medal, WWII Victory Medal, American Service Medal and the Good Conduct Medal. He left the service at the rank of Technician 4th Grade.
When he returned the U.S., he went to work as a mechanic but later became a dealer for John Deere Tractor. On August 27, 1946, Harvey married the former Beatrice Marie Hamilton of Busti, NY. She was the daughter of Ira Earl Hamilton and Charlotte Sandbury Hamilton. The couple had two daughters, Gail, born in 1947, and Margaret in 1958.

In his spare time, Harvey enjoyed photography and researching genealogy. He was a member of the American Legion, the Volunteer Fire Company, the Town Council and was on the Board of Trusties for the Methodist Church. Harvey passed away on August 11, 2002, and was buried in Clymer, NY.
I want to thank Harvey's daughter, Gail, for providing the information and photos of her father. In the photos below, you can see Harvey standing proudly with his M18 Hellcat named "Allegheny Avenger II" and also sitting on it's 76mm gun. Note the ruins in the background of Halle, Germany. The 817th received their M18s in April of 1945.