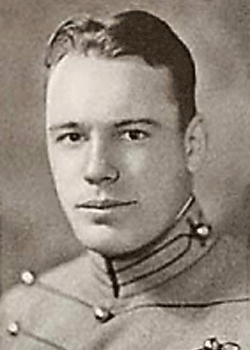 John A. Beall, III
Biography: The following material was written by John himself and provided courtesy of his grandson, Allen. The photo to the left is John Beall as a cadet at West Point and is used by permission of Digital Data Online, Inc. and E-Yearbook.com.
John Allen Beall, III was the first of four children born to John Alphonso Beall, Jr. and DeLouise McClelland Beall. He was born in Gilmer (Upsure County) Texas on May 23, 1912. He attended elementary and high school in Jacksonville, Texas. In high school he represented the school in oratorical contests at county, regional, and state level and was on the school debating team. He played tackle on the High School Football Team and was on the track team. He played the violin and saxophone in the school and Central Baptist Church Orchestras. He graduated from Jacksonville High School in 1929.
Jack, as he was called, then went to Allen Military Academy, Bryan Texas, where he played football on the best preparatory school team in the state. He graduated from Allen Academy as an honor graduate of an honor military school in 1930, thereby winning an appointment to the U.S. Military Academy at West Point, N.Y. However, his physical examination showed that he was color blind and he was not accepted by the academy for this reason.
Jack then went to work in the oil fields near Kilgore, Texas as a "roughneck". After several months there he went to work for Texaco Oil Company as a steel construction worker in their refinery in Casper, Wyoming. Responding to the pleas of his mother that he return to school, he quit his job in the late Fall, and returned to Allen Academy to study for the Congressional Competitive Examinations for West Point, and to try to overcome his color deficiency by practice on the tests. (His mother thought him "color ignorant" – not "color blind"). He took the competitive examinations in the spring of 1931, winning first place in a field of 64 applicants. Through the efforts of his congressman, the Army waived the color deficiency and he entered West Point on July 1, 1931.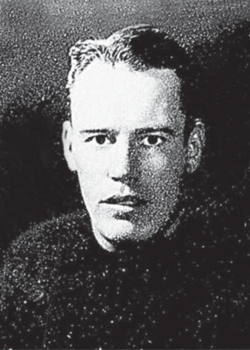 At West Point he was captain of the "Plebe" (Freshman) Football Team. The next three years he was on the varsity team as a tackle, making Army's First Team the last two years. Army's team was considered a "powerhouse" in those days having successful seasons against such opponents as Harvard, Yale, Columbia, Illinois, Notre Dame, and Navy. Because of his small size (6 feet 2 inches and only 175 pounds) the Army coaches, Ralph Sassy, Gar Davidson, and "Red" Blake taught him how to spring forward rapidly and encouraged aggressiveness. Noticing this, Ted Husing, a noted sports writer gave him the nickname "Tiger", a name that followed him throughout his lifetime.
He graduated from West Point on June 12, 1935 ranking in the middle third of his class. He was appointed a 2nd Lieutenant of Infantry and assigned to Vancouver Barracks, Washington. At Vancouver Barracks he continued to play football and was coach of the Post Team. In 1936 he coached and played on the West Coast Army Team. To augment his meager salary ($106 a month) he refereed high school games and played on Sundays with a professional team, the Multnoma Athletic Club.
He rose rapidly in his military assignment, becoming the Company Commander of "I" Company 7th Infantry in the fall of 1935 and holding that assignment until he was transferred to overseas duty in February of 1937. it is interesting to note that the ranking officer of this small post was General George C. Marshall (then a Brigadier General).
On February 5, 1937 he married Nancy Hodgman, the daughter of Lt. Commander William A. Hodgman, a Naval Officer stationed in Portland, Oregon. Nancy had spent most of her life in the Service, primarily in Germany and the Naval Academy. She had gone to school in Germany, France, and Switzerland while her father was on Occupational Duty following World War I. Lt. and Mrs. Beall moved to the Panama Canal Zone for station in February, 1937. Upon arrival he was assigned as commander of the 42nd Quartermaster Troop Pack – a pack mule unit charged with supplying isolated anti-aircraft positions in the jungle. For the next eighteen months he lived in the jungle with his unit of 64 pack mules and 16 pack-masters. He earned the title of "Jungaleer".
He was next assigned as a student of the Infantry School, Ft. Benning, Georgia. Here he served with, and got to know, a Major Omar Bradley (later General Bradley) who was School Commadant. On October 9, 1939 his wife, Nancy, was killed while horseback riding in a Ladies Riding Class. On that particular day, one of the other ladies had a horse she could not handle, and Nancy, who was an excellent rider, had volunteered to swap horses with her. As the horses headed for the stable, Nancy's horse ran away, she was thrown, and died some two hours later.
At that time, World War II had started in Europe and the Germans were over-running Europe with their tanks. The school term was cut short in February, 1940 and the top ten students (of which Lt. Beall was one) were assigned to an experimental anti-tank battalion at Ft. Benning with the mission of developing anti-tank weapons and tactics capable of defeating a German tank attack. (The adjutant of this unit was a Captain Albert C. Wedermeyer, later Allied Commander of the China-Burma Theater). For the next two years, Lt. Beall was engaged in research and development of anti-tank defenses. A prototype Anti-Tank Battalion was formed (the 94th Antitank Bn. – later the 894th Tank Destroyer Battalion); Lt. Beall, now Captain Beall, commanded Company "C" of that unit and was engaged in presenting the newly developed weapons and tactics to the greatly-expanded classes of the Infantry School, and to the Regular Army, National Guard, and Reserve Units, and VIP's including General George C. Patton. The vehicle which had been developed was a tank chassis on which the turret had been replaced by a powerful large-caliber gun. Captain Beall also found time to graduate from the Infantry Communications School and the Infantry Tank School.
On April 12, 1941, Captain Beall married Mrs. Ruth Proveaux in the Post Chapel at Ft. Benning. Mrs. Proveaux had been born in Bonifay, Florida, raised in Tampa, Florida, and at the time of their marriage was living with her mother and stepfather, Mr. and Mrs. Benjamin Hill, of Columbus, Georgia. She had been divorced from her first husband and had a 5 year old son, James Kennon Proveaux, who was later adopted by Captain Beall.
The United States entered the war in December, 1941, with the bombing of Pearl Harbor, and in February 1942 Captain Beall was promoted to Major and assigned as Operations Officer of the Advanced Unit Training Center, Camp Hood (later Fort Hood), Texas. Here he designed and ran tactical problems for all the Anti-tank Battalions of the Army. These battalions moved to Fort Hood in turn, some 20 battalions at a time, for 12 weeks of Advanced Tactical Training and Firing.
In the fall of 1942, Major Beall attended a four month course at the Command and General Staff College at Ft. Leavenworth, Kansas. He was promoted to Lieutenant Colonel and assigned as Commander of the 702nd Tank Destroyer Battalion. The unit had some 60 officers and 700 enlisted men and was equipped with the new weapons that had been developed – a 90mm gun on a tank chassis. After training periods at Camp Gruber, Oklahoma and Fort Polk, Louisiana the unit was declared "combat-ready" and received its orders to ship out for England in late 1943.
After they reached Fort Miles Standish, Massachusetts, the ship which was coming to pick up the battalion was sunk by German submarines and the unit moved to Ft. Devens, Mass. to await shipment. In December, 1943 the unit sailed from Halifax, Nova Scotia on the Isle de France, at that time a British Transport. Because of its speed, it was allowed to cross the Atlantic without Navy Escort, since it could outrun German submarines. After landing at Glasgow, Scotland, the unit moved to Sherwood Forest, England for final training and preparation for the invasion of France. Completing its training there, it joined the 2nd Armored Division at Tidworth Barracks, England in April, 1944.
In June, the 702nd TD Bn, Lt. Col. Beall commanding, sailed as part of the 2nd Armored Division to make the Normandy Invasion. Arriving on June 9th (D+3) the battalion embarked through the surf from its four "Landing Ships, Tank" across Omaha Beach, and immediately attacked inland to help form the perimeter of the beachhead. For the next six weeks the battalion was engaged in intermittent fighting during the buildup of troops in the beachhead. During this period Lt. Col. Beall was wounded by an enemy mortar shell but refused evacuation. On July 28th the battalion, as part of the 2nd Armored Division, attacked the Germans at St. Lo and drove into hostile territory some 40 miles before being halted by heavy enemy resistance. The unit engaged in heavy fighting in the vicinity of Mortain, France when the Germans counterattacked. In the St. Lo-Mortain Action the battalion was credited with destroying 20 enemy tanks, some 40 enemy vehicles and capturing or killing over 200 German soldiers. Lt. Col. Beall was awarded the Silver Star for bravery under fire.
The unit became part of the large task-force which attacked the left flank of the Germans near Argentan, helping to close the Falaise Gap in which over 100,000 of the enemy were cut off, thousands were killed or captured, and the Germans lost an entire Army. Lt. Col. Beall was awarded the Bronze Star for Valor for this operation.
Without stopping, the unit then fought its way across France, crossing the Sein River near Mantee Grassicourt (northwest of Paris); the Somme River at Bray and on September 2, reached the Belguim Border at Tournain, an advance of some 130 miles. The 2nd Armored Division with the 702nd TD Bn. attached were the first Allied troops to enter Belgium. The units continued their drive across Belgium, driving the Germans from Braine le Comple, Wavre, St. Tronde (Belgium) and from Hasselt and Maestricht, Holland. They reached the German border on September 18, 1944, a further advance of some 120 miles. Lt. Col. Beall was awarded the Belgium Croix de Guerre with Palm for this service. During all of this fighting, the Tank Destroyer Battalion, which Lt. Col. Beall commanded, had the most powerful anti-tank weapons of the Division and would normally be held initially in reserve and when enemy tanks were sighted the battalion would be rushed up to encounter the tank threat.
Lt. Col. Beall's battalion was also heavily engaged in the Battle of the Bulge as part of the 2nd Armored Division, moving through Aachen and Cologne and engaging the enemy at Celles, Marche and Houffalize. The 2nd Armored Division was credited with defeating the forward thrust of the German attack at Ciney. Lt. Col. Beall was awarded a second Bronze Star for his part in the engagement. His battalion also engaged in sporadic fighting in Luxembourg and Holland. The battalion was then engaged in the attack through the Siegfried Line and crossed the Rhine River at Wesel, Germany. It fought its way through Ludinghausen some 40 miles further into German territory. Having cleared this obstacle, it broke into open country, and fought its way across Germany to the Elbe River near Magdeburg by April 19th. Here it joined up with the Soviet Forces. Lt. Col. Beall had engaged in 317 continuous days of combat.
This part of the fighting completed, Lt. Col. Beall was assigned to command the 6th Tank Destroyer Group in General Patton's Third Army on June 3rd, 1945, while they were stationed at Peine, Germany. The Third Army, at that time, was clearing remnants of German troops out of Bavaria, Austria and Czechoslovakia. The unit would move to Bad Aibling only 6 days later. While involved in clearing operations in Bavaria, the group captured a German Division of about 16,000 troops near Bad Aibling and was ordered to establish a POW (Prisoner of War) Camp there to secure them.
The Camp was so well done that General Patton assigned all POW Camps in Bavaria to Lt. Col. Beall and his Group. Lt. Col. Beall moved his headquarters to Dachau and established some 14 additonal POW Camps with a total of some 200,000 prisoners. After the end of the war, when officers of similar service were redeployed back home, General Patton refused to let Lt. Col. Beall be redeployed. He did let him bring his family to Germany with him. He moved his headquarters to Heidleberg and lived there with his family until June, 1947. He was awarded the Legion of Merit for this service.
Returning to the U.S., Lt. Col. Beall was assigned to G-3 (Operations) at the United States Continental Army Command at Ft. Monroe, Virginia. He served there for one year before moving to G-3 (Operations) of the Department of Army, Washington, D.C. as the Chief of Troop and Installation Programming Section. For two years he served as a member of the General Staff of the Army, developing troop structure world-wide, and installation requirements within the United States. He was awarded the General Staff Medallion for this service. To gain experience of command of the revised structure and material of the post-war Army, he was assigned for six months as Commander of the 3rd Squadron, 3rd Armored Cavalry at Ft. Meade, Maryland. He was then assigned as a student at the Air War College, Montgomery, Alabama, graduating there in August, 1951. He was then promoted to Colonel and assigned as an Army Advisor to the Air Command and Staff College. He remained at Maxwell Air Force Base, Alabama for two years before being ordered to Korea.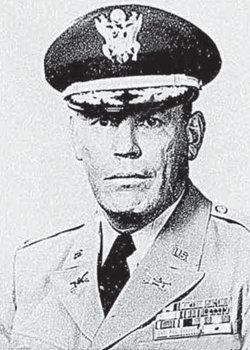 In Korea, he was Chief of Staff of the 45th Infantry Division, and later of the 24th Infantry Division. He received a second Legion of Merit for this service. He then served for six months as Senior Advisor of the 6th Republic of Korea Corps. At that time the 6th Corps had about 100,000 soldiers and was holding a portion of the Demilitarized Zone between North and South Korea. He received the Korean Distinguished Service Medal, Order of Ulchi, for this service.
Returning to the United States in 1954, he served as G-1 (Personnel) and later as G-3 (Operations) of the III U.S. Army Corps, Ft. Hood, Texas. The Corps had about 60,000 troops and was engaged in extensive joint maneuvers in Texas, Louisiana and California.
In 1957 he was assigned to the U.S. Continental Army Command, Ft. Monroe, Virginia as Chief of Armor, with duties of coordinating the training, assignment and operations of Armor troops throughout the U.S. In the fall of 1959 he attended Harvard University, completing the Advanced Management Program there. After graduating from this program, he was assigned as Special Assistant to the High Commissioner of the Ryukus Islands with station in Okinawa. (The Ryukus Islands were a trust territory of the United Nations, acquired from Japan after World War II.) Here he was promoted to Brigadier General as Deputy Commander of U.S. Army troops on the islands. These islands were not only an important outpost of the Western Defense Perimeter of the U.S. but also served as a base for military operations and supplies for Vietnam.
Returning to the U.S. in the fall of 1961, he was assigned as Chief of Staff of III Corps at Ft. Hood, Texas. Due to political maneuvering in the assignment of a permanent commander for the Corps it was his privilege to serve as Corps Commander for seven months. During that time, the Corps had 4 divisions assigned and numerous corps troops for a total of 150,000 troops. The Corps and its troops were part of STRAC (The strategic forces to be deployed immediately in case of any national emergency). Twice, during General Beall's tenure, the Corps or its units were alerted for deployment; once during a flare up of the Berlin situation in 1961 and again during the Cuban situation in 1962. In neither case was the Corps actually deployed, although one armored division was shipped to Florida during the Cuban situation, ready for embarkation.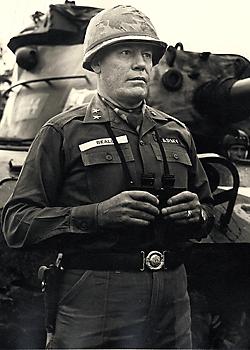 When the permanent Corps Commander arrived in April, 1962, General Beall was assigned as Commander of the U.S. Army Training Center, Ft. Knox, Kentucky (as shown in photo to the left). This training center consisted of about 1200 staff and cadre and 20,000 recruits. Here he was promoted to Major General. After three years at Ft. Knox, he was assigned as Chief of Staff, Third U.S. Army, Ft. McPherson, Ga. Third Army had some 250,000 troops in nine major installations including Ft. Bragg, Ft. Campbell, Ft. Benning, Ft. Jackson and others. The Army's mission was to provide trained troops and units to Vietnam.
While at Ft. McPherson, in April 1967 General Beall had a serious heart attack and was hospitalized until February, 1968 when he was retired with 60% disability. This disability rating was later raised by the Veterans Administration to 90%. Upon retirement Major General Beall was awarded the U.S. Distinguished Service Medal.
After about two months of rest and recuperation, General Beall decided to apply his knowledge and expertise in management to college teaching. This required that he update and broaden his knowledge by university study, and he entered Georgia State University. He obtained a Masters Degree in Management in 1970 and a PhD in Business Administration in 1972. To fully occupy his time while going to school, he became Administrator of Canterbury Courts (a 128 apartment complex) in 1969 and an instructor of management at West Georgia College in 1970. In 1972 he became Chairman of the Management and Marketing Department, West Georgia College, holding that position until he became 65 years of age in 1977. He then reverted to teaching at West Georgia College until the age of 70 (1982). He was appointed Professor Emeritus of Management by the Board of Regents, University System of Georgia in 1973.
He was a Ruling Elder of the Carrollton Presbyterian Church during the calendar years 1981-1983 and was Chairman of the Church Finance Committee during the year 1983. He was a Kiwanian and served one tour on the Board of Directors of the local (Carrollton, Ga) unit. He served as a Director of the local chapter of the American Heart Association, Executor of the John A. Beall, Jr. Estate and Administrator of the DeLouise McClelland Beall Estate.
He resided with his wife Ruth in Carrollton, Georgia, until the time of his death. He had one step-son, James Kennon Beall, who had two daughters, Bridgett and Rouanna. He had one son, John A. Beall, IV, who is married to Cheryl Anderson Beall and they have three children: Ashley DeLouise Beall (1976 -), John A. Beall, V (1983 -), and Arianne Anderson Beall (1984 -).
I want to thank Allen Beall for providing both images and biography information. I also want to thank the West Point Association of Graduates for the additional materials they provided.