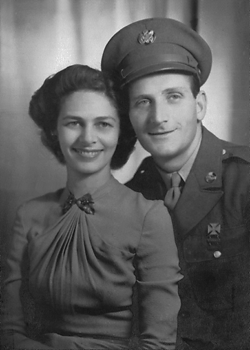 Biography: Stanley "Stan" Solomon Brozen was born on June 18, 1916, in New York City, New York. He was the son of Ivan S. Brozen and Theresa Warschauer. Stan attended local New York City schools. He found employment with Grumman Aircraft as an aircraft fuselage frame builder and also worked as a Red Cross-certified lifeguard. On May 30, 1941, Stan married the former Bernice Sylvia Falk, also from New York City, who was the daughter of Newton Falk and Helen Mabel Isaacs. The couple made their new home in Cedarhurst, NY.
Service Time: Stan entered the Army on September 9, 1943, at Camp Upton, New York. He was assigned to the Medical Detachment of the 630th TD Battalion, which was stationed at Camp Rucker, Alabama, during the second half of 1943. The 630th arrived on Omaha Beach, Normandy, France, on July 24th. The Battalion was attached to the 28th Infantry Division and committed to action on July 28th. On August 29, the unit participated with the division in a triumphal march down the Champs Elysees and past the Arc D'Triumph in Paris. In November they supported the Regimental Combat Teams of the 28th in the Hurtgen Forest area. They saw heavy combat during the early stages of the Ardennes offensive; at the end of December, 1944, unit records indicate 191 men were missing. Company B had lost all their guns as a result of them being knocked out or overrun by the enemy. In late March, the unit converted to the M-36 tank destroyer and in mid-April supported operations of the 13th Armored Division in the Ruhr pocket. The 630th received credit for the following campaigns: Normandy, Northern France, Rhineland, Ardennes-Alsace and Central Europe.
At some point, Stan was transferred to the 607th TD Battalion, possibly as a prelude to shipping home. He is listed as a member of the Headquarters Company in the 607th unit history. Stan left the service as a PFC and earned the following awards: Combat Medical Badge, EAME medal and the WWII Victory medal. He was discharged at Fort Dix, NJ, on Dec. 10, 1945.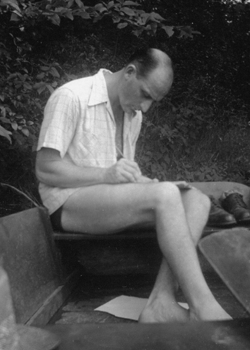 Post Service Years: Following his return home, Stan went to work with his father at Ivan's Fur Shop in Cedarhurst, NY. His family had come from Russia, and many Jewish families were in the fur/garment trade. Stan had an eye for color and was an expert at matching pelts in addition to designing and creating fur garments. Oil and watercolor painting were activities that he enjoyed in his spare time. He and Bernice had two children, Barry, born in 1947, and Beth, born in 1951.
In 1969, the family moved from Valley Stream, NY, to Overland Park, Kansas, where Stan worked for Alaskan Fur Co. He went on to other fur manager positions in Wichita, Kansas and Detroit and Saginaw, Michigan. After Bernice passed away in 1971, Stan returned to Overland Park where he married the former Donna Schneider. They soon moved to Topeka, Kansas, where Stan managed the fur department of a large department store.
Stan passed away March 29, 1973, in Lawrence, Kansas. Because of the atrocities he saw as a medic during the war, he never fully recovered from his battlefield experience, and his death was ruled service-related. He was cremated, and his ashes were scattered in the Topeka, Kansas, area.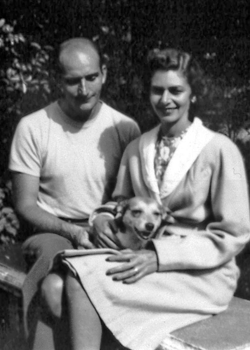 In the accompanying photos, you can see Stan and Bernice as well as Stan taking some personal time to do a drawing.
We would like to thank Stan's daughter, Beth, for providing the information and photos used in this tribute.