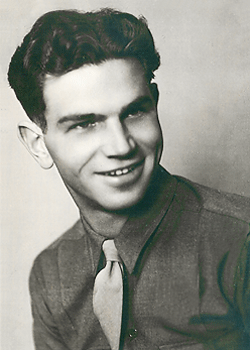 Frank E. Baranski, Jr.
Biography: Frank Edward Baranski Jr., was born on August 5, 1924, in Evanston or Chicago, Illinois. He was the son of Frank E. and Jeannette Baranski and attended Central Grammar and Des Plaines Junior High school before going on to Maine Township High School. After graduation, he worked at the Douglas Aircraft Company in Des Plaines.
Service Time: Frank was initially denied entry into the service but after an operation to correct a medical condition, he was accepted and entered the service at Fort Sheridan, in North Chicago, IL. He then traveled by rail to Camp Blanding, located near Gainesville, Florida.
He was trained on the use of 75 and 155mm howitzers before being shipped overseas on the USS Brazil. The ship landed in La Havre, France in January of 1945 with approximately 5000 troops aboard. On about January 26th, Frank was assigned to Company C of the 629th Tank Destroyer Battalion, which at the time was assigned to the 99th Division of the 3rd Army. He went on to serve with them during actions against the Siegfried Line and along the Rhine and Ruhr Rivers before taking up occupational duties of manning checkpoints, guarding POWs and assisting with the creation of camps. Frank had reached the rank of Staff Sergeant.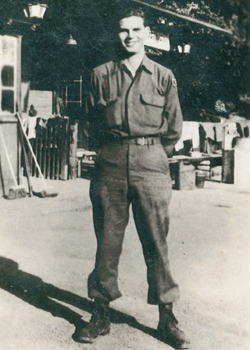 The administrators of the US Zone were looking for personnel with accounting skills, so on October 31, 1946, Frank received his discharge and began working in Frankfurt, Germany, as a supervisor in their auditing section. During this time that he married his fiance, Margaret Thurauf, who was from the German town of Lohr a.Main. Although Frank was a civilian, he had difficulty gaining approval for his marriage, due to the Army's non-fraternization policies. General George Patton's 3rd Army Chief of Staff, Brigadier General Hobart R. Gray, finally gave consent to the union. The couple was married on October 28, 1947, and spent their honeymoon in Paris, paid for with a few cartons of Beachnut chewing gum.
For a more detailed account, please click this link for an autobiography of Frank's military career.
After returning to the U.S., Frank brought his wife back to Des Plaines where they made their home. He went back to school and graduated from Northwestern University, sometime after 1955, and worked for the International Harvester Company. The couple had two children, a boy and a girl. In his spare time, Frank enjoyed playing golf.

On November 7, 2012, Frank passed away at the age of 88 and was cremated. I want to thank Frank's brother, Tom, for providing the photos and information for this tribute.