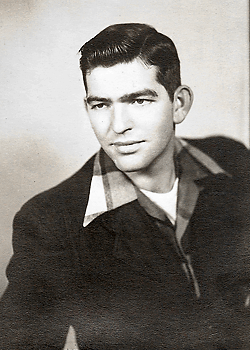 Charles W. Beavers
Biography: Charles Warren Beavers was born on July 8, 1922, in Pineville, West Virginia. He was the son of Alexander Robert Dillon Beavers and Alice Marie Lambert and attended Pineville High school, completing the 9th grade. His enlistment records notes his civilian occupation as Motion Picture Projectionist.
Service Time: Charles enlisted on October 27, 1942, at Camp Hood, Texas, and was assigned to the Headquarters Company of the 819th Tank Destroyer Battalion. During his training, he received a Marksman qualification with the rifle as well as both Driver and Mechanic Badges. He shipped out with the unit on March 15, 1944, landing in Hawaii, on March 21st. They would continue on to Palau Island, landing on February 1, 1945. His awards include one campaign star, for the Western Pacific, along with the American Theater Medal, the Asiatic Theater Medal, the WWII Victory Medal and the Good Conduct Medal.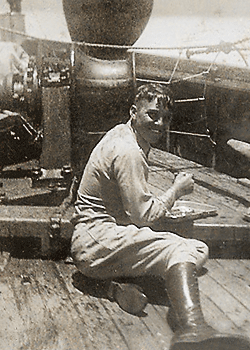 The photo to the left shows Charles eating a meal on the deck of a ship. His relaxed expression makes me think this was during the unit's passage to Hawaii.
On November 27, 1945, the 819th returned to the U.S., landing sometime in December. Charles left the service on December 20, 1945, at Camp Atterbury, Indiana. He had reached the the rank of Technician 5th Grade.
Charles returned home and found work at the N & W Railroad as a brakeman. He married on December 5, 1952, and the couple had two children, Charlene, born in 1954 and Cindy in 1957.
He was an avid follower of NASCAR and was also a member of the Fraternal order of the Moose and the American Legion. Charles passed away on December 8, 1991, and was buried in the Palm Memorial Gardens in Matheny, West Virginia.
I want to thank Charles' daughter, Charlene, for providing the photos and information used in this tribute.