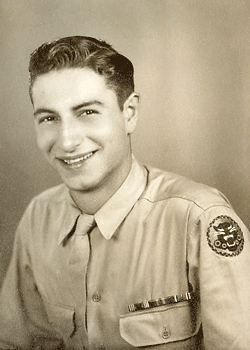 Frank E. Borrelli
Biography: Frank Emil Borrelli was born on April 28, 1926, in Lawrence, Massachusetts. He was the son of John Borrelli and Mary Louise Ceprano.
Service Time: Frank entered the service on July 19, 1944, and was assigned to Company B of the 633rd Tank Destroyer battalion while they were stationed at Fort Hood, Texas. The 633rd spent almost a year at Camp Hood and served as "School Troops" prior to shipping from the New York port on March 31, 1945. The unit arrived at LeHarve, France, on April 13 and was assigned to the Third Army. They were ordered to proceed to Nurnberg, Germany, and were attached to the 16th Armored Division during that time. They continued to Pilsen, Czechoslovakia, where they established outposts to prevent movement of Germans and Russians in and out of the area. Portions of the unit set up a Prisoner of War camp and a Displaced Persons Camp.
Frank, along with his unit, received credit for participation in the Central Europe campaign prior to shipping back to the U.S. aboard the U.S.S. Sea Pike on July 1, 1945. They arrived home on July 10. Frank left the service at the rank of Private First Class and received the Good Conduct Medal, the American Campaign Medal, the EAME Theater Medal and WWII Victory Medal.

Now back in the U.S., he found employment as a construction worker and married the former Frances T. Scarelli. She was born in Lawrence, MA, and was the daughter of Antonio Scarelli and Madeline Scalera. The couple made their residence in Lawrence and had one daughter, Madelyn, born in 1959.

Frank passed away on July 1, 1993, and was buried in the Immaculate Conception Cemetery in Methuen, MA.
I want to thank Frank's grandson, Adam, for providing the information and photo for this tribute.