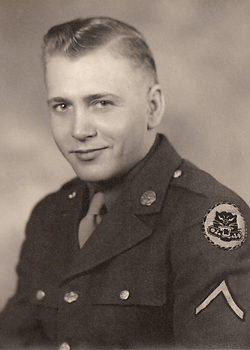 William A. Brees
Biography: William Arnold Brees, "Bill", was born in Greenfield, Indiana, on April 8, 1922. He was the son of William H. and Wilma E. Brees and attended schools in Westland, Maxwell and Eden, Indiana, where he graduated from high school in 1941. He then went to work for Delco Remy (a division of General Motors) in Anderson, Indiana, staying there until he entered the military. At some point prior to his induction, Bill married Rebecca (Reed) Fuller who was the foster daughter of Glen and Mary Fuller. The couple resided in Greenfield, Indiana, and had one son, William R.
Service Time: Bill entered the Army on December 16, 1942, in Indianapolis, Indiana. On the 28th, he was assigned to the Headquarters Company, 607th Tank Destroyer Battalion. He was promoted to Pfc on April 23, 1943. The unit landed in Liverpool, England, in April of 1944 and landed at Utah Beach in two groups in June. They received credit for all five European campaigns. Bill earned the following awards and medals: Good Conduct, EAME Campaign w/ 5 service stars, American Defense Service, WW II Victory and the Army of Occupation. On June 29, 1945, he was transferred to the Reconnaissance Company of the 771st TD Bn. Low point men from the 607th were being transferred to the 771st while high point men of the 771st were transferred to the 607th. On the night of Sept. 8, 1945, the Recon Co. was having a party at Hofkirchen, Germany. An altercation started between two enlisted men and a third soldier attempted to break the fight up. One of the fighting parties pulled out a pistol and struck the intervening soldier in the head, causing the gun to discharge. The bullet struck Bill, who was standing at a distance from the altercation, in the neck. He was immediately transferred to the 65th Field Hospital and later to the 250th Station Hospital at Regensburg, Germany. Bill was paralyzed from the waist down at the time. He was later transferred to the Cushing General Hospital in Framingham, Massachusetts.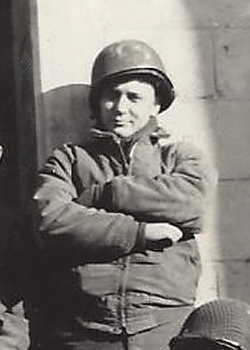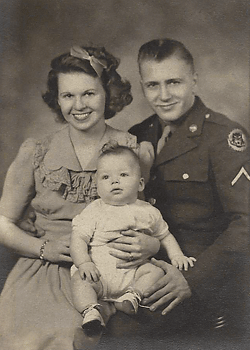 The photo above, left, shows Bill somewhere in Germany. The photo at right shows Rebecca and Bill with their son, William R. (Ronnie).
Bill passed away on July 7, 1946, having never left the hospital. The military deemed his death was a result of the injuries he suffered from the wound. He was buried at the Park Cemetery in Greenfield, Indiana. Bill was a T/5 at the time of his death.
We would like to thank T/5 William A. Brees for his service and making the ultimate sacrifice for his country. We would also like to thank his son, Ronnie, for providing the photos and information used in this tribute. Additional thanks go to Geoff Gentilini, of Golden Arrow Military Research, for researching and collecting the Army records needed to accurately determine the story of what happened to William.