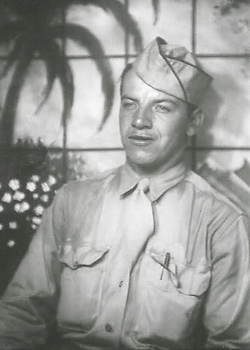 John A. Borawski
Biography: John Alexander Borawski was born on August 13, 1925, in Trenton, New Jersey. He attended St. Hedwig's High School through the 9th grade. Prior to entering the service, he worked as a shipping and receiving clerk at Spiegal's Department Store.
Service Time: John entered the service on December 14, 1943, at Camden, NJ. He was assigned to Company B of the 824th Tank Destroyer Battalion, which landed at Marseilles, France, in October of 1944. They were initially deployed at Sarrebourg and fought near Bitche, France and later, against the Siegfried Line in December. The 824th battled the German Nordwind Offensive in January before trading their towed 3″ guns for M18's in March. They crossed the Rhine that same month before joining the fight at Heilbronn, Germany, and then moved to the Austrian border to begin clearing the Bavarian Mountains. They participated in the capture of Innsbruck in May.
The 824th received credit for the following campaigns; Rhineland, Ardennes-Alsace and Central Europe. John received the WWII Victory Medal, the Good Conduct Medal and the EAME Campaign Medal. He left the service at the rank of Private First Class.
After the war, John worked as a railroad baggage handler. On September 13, 1952, he married and the couple had three children. In his spare time, John enjoyed fishing. He passed away on January 14, 2008, and was laid to rest in the Hillcrest Cemetery, in Conway, South Carolina.
I want to thank John's son, Michael, for providing the materials and photo used in this tribute.