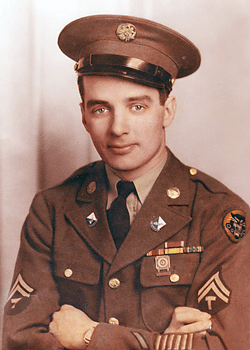 George E. Baker
Biography: George Edward Baker was born on September 15, 1916, in Hennepin County, Minnesota. He was the son of John Leslie Baker and Zita Laverne Barrett. He graduated from school in Cresco, Iowa, and is believed to have served in the National Guard prior to the war. The photo below, at left, is from George's graduation.

Service Time: George entered the service on April 26, 1941, at Fort Des Moines, IA. He was living in Cresco, IA, at the time. He was assigned to Company E, of the 109th Quartermaster Regiment, which was attached to the 34th Infantry Division, at Camp Claiborne, Louisiana. The unit left the New York Port on February 18, 1942, as part of a 21 ship convoy, landing in Belfast, Ireland, on March 2. At some point, he was transferred to the HQ Company of the 2nd Tank Destroyer Group. I can only imagine, his experience with the Quartermasters, provided him with skills that were of need in his new unit. Note that on his formal uniform photo, taken after the war, he is wearing the Distinctive Unit Insignia (DUI) for the 109th QM Reg. on his lapels.

On September 28, 1944, George received a non-combat fracture to his shoulder, which was identified as a line-of-duty injury. He was treated at a hospital in France before being moved to one in Birmingham, England. His injury was severe enough that he was shipped back to the U.S. on January 23, 1945, arriving on February 9. After recuperating, he shipped back to Europe on April 16, arriving on the 29th. It is believed that George returned to the 2nd TD Group to serve out the rest of his time. He had been absent for a total of 63 days.
The 2nd TD Group participated in four campaigns, including Normandy, Northern France, Rhineland and Central Europe. George shipped back to the U.S., on June 6, arriving on the 15th. Even with his lengthy absence, he had spent 2-1/2 years overseas and received credit for each of the unit's campaigns. He also received the EAME medal and a Purple Heart. He was discharged on June 23, 1945, at Fort Sheridan, Illinois, at the rank of Technician 5th Grade.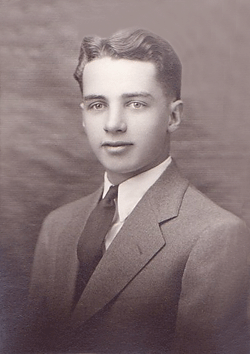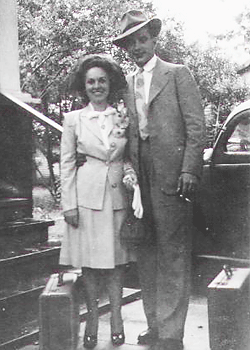 On August 21, 1945, he married the former Mary Angela Gremillion. She was the daughter of Hilaire Francois Gremillion and Marie Angela Lacour and was born in Moreauville, Avoyelles Parish, Louisiana. You can see the couple's wedding photo, above on the right. They made their home in Minneapolis, Minnesota, and George worked as an electrician. They had three children, Melvin, born in 1946, Lowell in 1949 and Angela in 1952.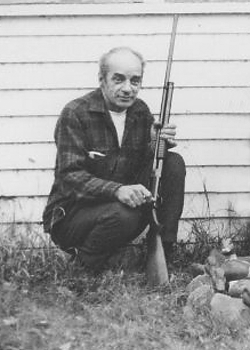 In his spare time, George enjoyed camping, fishing and hunting. He passed away on November 14, 1975, and was buried in the Gethsemane Cemetery in Minneapolis. I want to thank George's grandson, Michael, for providing the materials for this tribute.