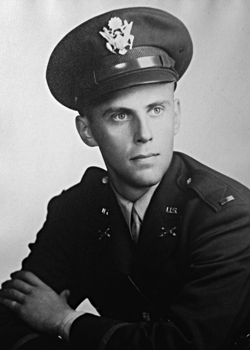 Henry P. Brown
Biography: Henry Pell Brown was born in Brooklyn, New York. He was the son of Leroy Temple Brown and Florence Pell Ladd and attended Montclair High School in New Jersey. Pell, as he was known, continued his education at Hamilton College in New York while working as an Underwriter for the American Insurance Company of Newark, New Jersey.
Service Time: Pell entered the service on April 29, 1942, at Newark and was sent to Camp Edwards in Massachusetts for his basic training. He was then sent to Fort Sill, Oklahoma, and chosen to participate in Officer Candidate School. Pell graduated as a 2nd Lieutenant in the artillery.
On October 24, 1942, Pell married the former Dorothy Marie Franz who was born in Newark. She was the daughter of Adolf Franz and Alena Tobleman.
Lt. Brown was ultimately assigned to Company A of the 636th Tank Destroyer Battalion and served with them in Africa and Italy. At the end of July, 1944, the unit was staged and ready to load transports for France. Company A's commanding officer was moved to Headquarters and now Captain Brown was put in command of the company. His driver was Tom Sherman, who also wrote the unit's history. Tom relates two stories of early experiences he had with Capt. Brown. Another officer was going on leave in Naples and Tom was tasked with driving him there. He was to be back in camp before dark but on the way, one tire went flat, which he replaced, but on the return drive, another tire went flat. Tom was unable to persuade any of the mostly British soldiers using the road to lend him a tire so he worked his way back to an old friend in a Quartermaster unit. The old friend provided him with new tires, a windshield and a top. The next day, when Tom finally got back to the unit, he was told that Capt. Brown was very upset with him. Tom arrived at the command post and Capt. Brown came out. He took a second look at the newly outfitted jeep and asked how this happened? Tom provided the full explanation and was directed to get another jeep with bad tires and go back to Naples.
On September 18, 1944, while in the area of Frejes, France, Capt Brown and Tom were driving and came upon a few of their TDs that had been stopped by snipers. They stepped out of the jeep and Brown tried to edge his way around one of the TDs to locate the sniper/s. About that time, a shot rang out and hit him in the forehead, knocking his helmet off. He did not lose consciousness but he was bleeding profusely. They were all still pinned down but Tom realized the urgency of getting Capt. Brown treated. He made a mad dash to the jeep and drove to pick up the Captain. Tom got him to an aid station, almost running over two German soldiers that were standing in the road. They did not fire, which Tom believed was because they were too startled.
Capt. Brown was evacuated to a field hospital and later had surgery in a hospital in Naples, Italy. When he was capable of being moved, he boarded the USAHS Blanche F. Sigman, on December 21, 1944. The ship was originally built as the Liberty ship SS Stanford White but was converted in early 1943 to serve as a hospital ship. The ship arrived at Charleston, South Carolina, on January 17, 1945. Capt. Brown received the Purple Heart for the wound he had received.
Now back in the U.S., Pell and Dorothy made their residence in Lexington, Kentucky, and had three sons, Henry Jr. born in 1946, Kent in 1949 and Stephen in 1956. Pell became the Director of the Fire and Allied Lines for the Department of Insurance, State of Kentucky. In his spare time, he enjoyed photography and was a member of the Masonic Order, State of Kentucky, York Rite. He rose to the level of Grand Commander.
Pell passed away on June 23, 1972, and was buried in the Lexington Cemetery in Lexington, Kentucky. I want to thank Pell's son, Stephen, for providing the photo and information for this tribute.