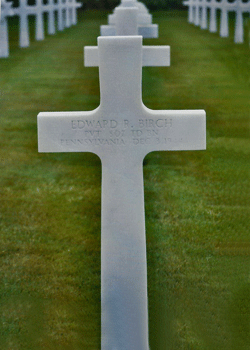 Edward R. Birch
Biography: Edward "Ted" Russell Birch was born on January 22, 1916, in St. Johns, Newfoundland. He was one of ten children of Edward John Birch and Ethel Jean Russell. The family emigrated from Newfoundland to the U.S., in 1920. Ted attended schools in Ford City, Pennsylvania, but left school to help support the family. His enlistment record lists his pre-war occupation as a taxi, tractor or truck driver. Ted had five other brothers that served in WWII with a seventh that died on his way to join up.
Service Time: Ted entered the service on March 14, 1942, at New Cumberland, PA. He was initially sent to Fort Jackson, South Carolina, for boot camp where he was assigned to the 608th Tank Destroyer Battalion. The unit was later transferred to Camp Atterbury, Indiana, where thet were deactivated on December 20, 1943, and the men sent to other units. Ted was assigned to A Company of the 807th Tank Destroyer Battalion.
The 807th shipped overseas, arriving in Liverpool, England, on August 23, 1944. They soon landed at Utah Beach on September 18 and fought in the Metz sector from September to November. The unit attacked toward Saarlautern in November and December. On December 3rd, unit records indicate that the Company Command Post was located in Guisengen while 1st and 2nd Platoons had moved to direct fire positions and 3rd platoon was already in direct fire position in the vicinity of St. Barbara. Pfc. Edward R. Birch was killed on that day although the circumstances of his death are not identified. His death could easily have been as part of the direct fire activities of the unit. Only he and one other soldier from the unit, Pvt. Donald A McMullen, were killed that day.
As a result of the 807th's actions during this time period, the enemy was driven back across the Saar River. A bridge at Saarlauten was captured intact and a bridgehead was established on the East bank of the Saar. The battalion had neutralized three Maginot forts, four pill boxes and captured 4 prisoners of war.
Ted's had one brother serving in the 101st Airborne Division and during a lull in the action, he received permission to visit Ted. He was able to find the 807th and reported to the 1st Sergeant, only to be told that Ted had been killed days before. Ted was eventually buried in the Lorraine American Cemetery, in St. Avoid, France, Plot B, Row 22, Grave 43. His family was presented with his Purple Heart.
I want to thank Ted's nephew, Dennis, for providing the information and photo for this tribute. It was Dennis' father that tried to visit Ted.
It is interesting to note that Ted's cousin, Harold Russell, was a demolition instructor during the war and lost both hands as he demonstrated the use of hand grenades to a group of soldiers at Camp Mackall in North Carolina. He went on to star in the film "The Best Years of Our Lives" where he portrayed a returning veteran who had lost both hands. In 1946, Harold won an Oscar for Best Supporting Actor and another Oscar for Bringing Hope and Courage to Disabled Veterans through Motion Pictures. This was the only time two Oscars were given to an actor for a single role.