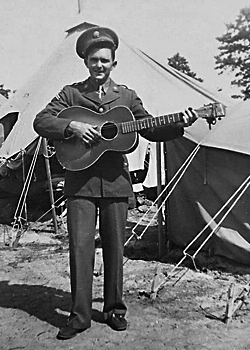 Homer C. Brown
Biography: Homer Cornelius Brown was born on June 4, 1919, in Bienville, Louisiana. He was the son of James Edward Brown and Dicie Isabella Oliver and attended local schools in Bienville. After leaving school, Homer worked on the family farm. At some point, the family moved to the Runnels area of Texas. Homer enjoyed music and social activities.
Service Time: Homer entered the service and was trained as a motorcycle dispatch rider. He was assigned to the Headquarters Company of the 636th Tank Destroyer Battalion. While in the service, he met and later married the former Corrine Jessie Steward.
The unit shipped out from New York on April 2, 1943, and arrived in Oran, Algeria, on April 13. They later landed at Paestum, Italy, beginning on September 13, 1943. Elements of the unit performed artillery missions and guarded the Fifth Army Command Post. Additionally, they trained British troops on the M10 tank destroyer and TD doctrine in October and November.
The 636th reentered the line in the Mignano sector in late November and was planning to attack S. Pietro and Mount Sammucro as well as the First Italian Motorized Brigade on Mount Lungo. On December 7, 1943, the unit was ordered to prepare for action. Homer was on duty, riding his motorcycle near Riardo, Italy. The roads were extremely muddy and slippery and he accidentally skidded, throwing him into the path of an oncoming vehicle. He was killed instantly and his body was initially buried in Europe but he was later brought home and buried in the Alexandria National Cemetery, in Pineville, LA. At the time of his death, Homer had reached the rank of Technician 5th Grade.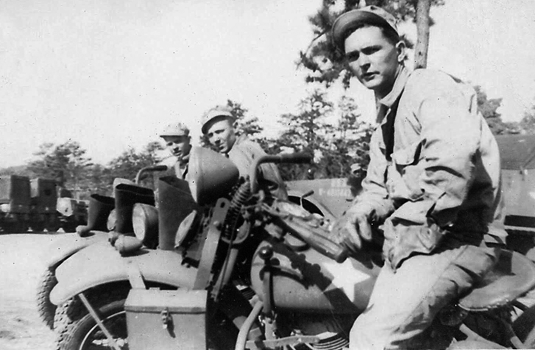 I want to thank Homer's grand-niece, Jessica, for providing the information and photos for this tribute.
Homer's brother , Alvin (Jessica's grandfather), who was also serving in WWII, was discharged when Homer was deployed overseas. Their father had recently suffered a stroke which left him paralyzed. Homer's death would make the family situation that much more difficult.
The photo below shows Homer and Corrine, probably while he was stationed in Texas or on leave.