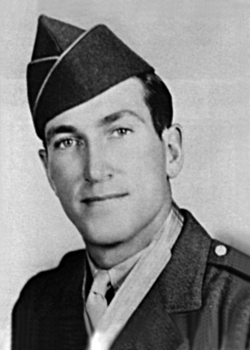 Herschel F. Briles
Biography: Herschel Floyd "Pete" Briles was born on February 2, 1914, in Colfax, Jasper County, Iowa. He was the eighth of nine children born to William Henry Briles and Ida Ellen Gouty. He lived on a farm with his sister and brother-in-law.
Service Time: Herschel volunteered for the Army at Fort Des Moines, Iowa, in February of 1941, intending to complete his service obligation in a year and then get back to farming and raising livestock. With the Japanese attack on Pearl Harbor, those plans were soon changed and he was eventually assigned to Company C, of the 899th Tank Destroyer Battalion.
The unit saw action in the Tunisa and Rome-Armo campaigns before landing on Utah Beach, D-Day, June 6, 1944. They fought in the Cherbourg area in June, supported the Cobra breakout in July and advanced through Mayenne. In Sept. they entered Belgium, attached to the 9th ID, and provided support in the Monschau and Hofen areas of Germany before moving to the Rotgen/Hurtgen Forest region in October.
On Nov 20th, Staff Sergeant Briles was leading a platoon of destroyers across an exposed slope near Scherpenseel, Germany, when they came under heavy enemy artillery fire. One destroyer suffered a direct hit, setting it on fire while killing one man and wounding two others. With another soldier, he ran through the artillery and small arms fire to the burning vehicle, pulled the wounded men out and extinguished the fire. The next morning, he spotted enemy infantrymen advancing and with his machine gun poured such deadly fire into their ranks that 55 of the enemy surrendered. That same day, under heavy enemy fire, he again aided in the evacuation of two wounded crewmen from another burning destroyer and returned to put the fire out.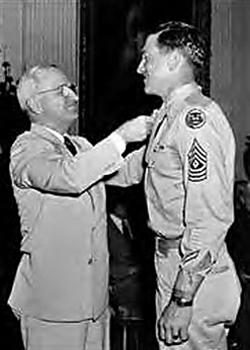 He continued to serve with the 899th through the end of hostilities in Europe. He left the service on June 24, 1945, at the rank of First Sergeant. For his actions in November, S/Sgt. Briles was awarded the Medal of Honor by President Truman, on August 21, 1945. In addition to the MOH, he also earned the following medals, Bronze Star, Purple Heart, Good Conduct, EAME, and the American Defense Service.
Post-Service Time: Upon his return home, Herschel farmed near Ankeny, Iowa, and married Wilma F. Telfer on January 21, 1946, in the Prairie City Methodist Church. She was born in Des Moines Township, Jasper County, Iowa and was the daughter of Walter Telfer and Mildred Offill. Herschel and Wilma later moved back to Jasper County where they farmed and raised three sons, James, Jerry and Randy.
He was part owner of the Colfax Livestock Sales Company and a member of the Colfax American Legion, Disabled American Veterans, Military Order of the Purple Heart, the Medal of Honor Society and Veterans of Foreign Wars. Herschel passed away on July 17, 1994, and was buried at the Waveland Cemetery, Prairie City, Iowa.