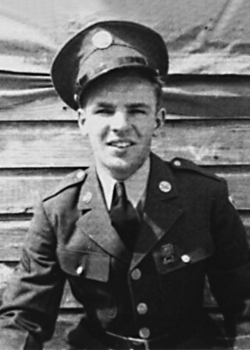 Frank W. Borowski
Biography: Frank Walter Borowski was born in Strawn, Texas on December 2, 1916. He was one of 11 children born to Ignatius Walter Borowski and Anna J. Kosakowski. The family moved to the Williamsport, Pennsylvania, area when Frank was very young and he attended school there through the 10th grade. He joined the CCC (Civilian Conservation Corps) on August 27, 1935, and worked at Camp S-75 in Hyner, Pennsylvania. He was discharged on March 31, 1938, and then worked in the steel fabrication industry. Frank also joined the National Guard.
Service Time: Frank entered the service on February 17, 1941, at Williamsport and was ultimately assigned to Company B of the 645th Tank Destroyer Battalion. During his training, he achieved a Marksman rating with the rifle. The 645th shipped out from the New York port on April 28, 1943, arriving in Algeria on May 27. They then landed at Paestum, Italy, on September 9, and participated in the drive up the Italian peninsula. They then shifted to the Anzio beachhead in February, 1944.
While they were in the vicinity of Anzio, Frank and the other members of his crew observed three German Mark VI 'Tiger' tanks at a 2000 yard range. Enemy mortar shells began to fall and as soon as the smoke cleared, they saw that the Tigers were headed towards them. Their TD Commander ordered them to fire and Frank, as the loader, began to place armor piercing shells into the unit's main gun. Within 10 minutes, they had fired 24 rounds and destroyed or disabled all three of the Tigers. Other members of his crew were James C. McClinton, Louis Remer, Vernon Dobson and Hooper Wilkinson.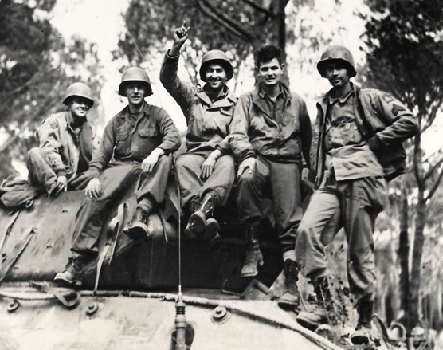 You can see Frank sitting with his crew-mates, second from the left.
The 645th was then withdrawn for training in June, 1944, preparing to participate in Operation Dragoon and landed in southern France, on August 15th, advancing to the Vosges Mountains near Grandvillers by October. The 645th joined the assault on the Siegfried Line in December near Bobenthal, Germany, and fought the German Nordwind offensive in January 1945.
Late in January, they converted to M36 and attacked the Siegfried Line again south of Sarreguemines in March, crossing the Rhine at Worms on March 25th. They helped reduce the Nazi stand at Aschaffenburg at month's end and participated in the capture of Nürnberg in mid-April, eventually reaching Munich on April 29.
In addition to Frank, his brother Edward also served in the Army (Combat Engineer Battalion). The boys father had been born in Warsaw, Poland, and both sons were proud to be able to fight the Nazis who had invaded their father's homeland.
Sons of Polish Immigrant – Article
Frank participated in the campaigns of Naples-Foggia, Rome-Arno, Southern France, Rhineland and Central Europe. He was awarded the Bronze Star along with the American Defense Medal, EAME Medal, and Good Conduct Medal. He left the service on July 27, 1945 at the Indiantown Gap Military Reservation, PA. He had reached the rank of Sergeant.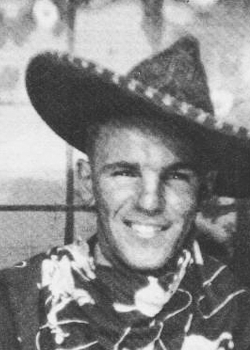 The photo on left was taken in November of 1942, while Frank was stationed in Texas. Many of the soldiers put on costumes and had photos taken, while they were on leave, to send home to their families.
Frank returned to the U.S. and on April 18, 1953, he married the former Lucile Esther Abbott, who was born in Mexico City, Missouri, and was the daughter of Phillip Dewitt Abbott and Doris Margaret Davies. The new couple made their residence in Augusta, Georgia, and had one son, John, who would later serve in the Air Force. Frank's step-son, Daniel, also served in the military and was a decorated Marine of the Vietnam war.
The family moved to California and Frank worked for the Lawrence Livermore Radiation Lab as a mechanical designer. He later worked for a few of the veterans hospitals before he retired. He lived in Sacramento for a period and then moved to Colorado to be closer to some of his family. He finally moved to Lakewood, Colorado. He was a member of the VFW and Knights of Columbus. In his spare time, he loved to play pool and played almost every night up until his death. His skills with a pool cue were highly respected by all who knew him.
Frank passed away on December 10, 1996, and was buried in the Fort Logan National Cemetery in Denver, Colorado. i want to thank Frank's son, John, for providing the information and photos for this tribute.