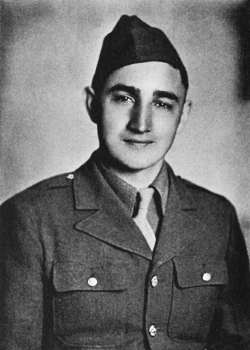 Maurice R. Bush
Biography: Maurice Russell Bush was born on December 19, 1922, in Daviess County, Indiana. He was one of seven children born to Paul Bush and Mary C. Harbstreit and attended local schools through the 12th grade. His enlistment record states that he worked in a semi-skilled transportation occupation prior to the war.
Service Time: Maurice enlisted on December 28, 1942 and entered service a week later on January 4, 1943, at Evansville, Indiana. He was assigned to 3rd Platoon, A Company of the 811th Tank Destroyer Battalion. He trained with the unit at a number of military facilities including, Camp Hood, Texas, Camp Carson, Colorado. Camp Gruber, Oklahoma, and Camps Livingston and Claiborne in Louisiana.
Company A of the 811th boarded the U.S.S. General William H. Gordon and shipped out from the Boston port on September 5, 1944, arriving at Cherbourg, France, on September 15th. They were equipped with M18s and moved to Luxembourg in November, participating in the Battle of the Bulge in December. The battalion was scattered widely and pieces were attached to many divisions into January, 1945. They supported operations against the Siegfried Line in February and early March.
On March 14, 1945, Company A moved to an area between Saarburg and Zerf, Germany. Cpl. Maurice R. Bush was killed that same afternoon, possibly by artillery fire in the area around Zerf. He was initially buried in the Luxemburg American Cemetery but was later moved to the Plainville Cemetery in Plainville, Indiana. He was 22 years old at the time of his death.
I want to thank Erwin Derhaag for providing the photo and information for this tribute. Erwin is from the Netherlands and has his own website honoring the men of the 6th Armored Division that are buried or listed on the "Walls of the Missing" in both overseas and U.S. cemeteries. If you have a moment, you can check out his site here.