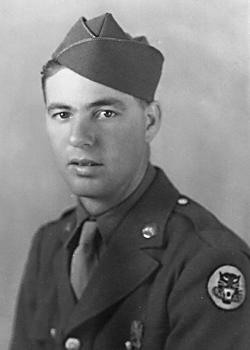 Charles B. Baldwin
Biography: Charles Baldwin was born on October 22, 1921, in Fallis, Lincoln County, Oklahoma. Although a number of records indicate he had a "B" for an initial, it is believed that this only referred to his nickname, "Bud".
He was the son of Charles Augusta Baldwin and Clemency Fent and attended local schools until his first year of high school. He left to help his family on their farm. His father had worked for the KATY Railroad (Missouri-Kansas-Texas Railroad) as a lineman, but lost his job during the depression and now worked the farm also.
Service Time: Charles entered the service on May 30, 1942, and was assigned to Company B of the 807th Tank Destroyer Battalion. The unit shipped out from the New York port on August 11, 1944, arriving in Liverpool, England, on the 23rd. Less then a month later, they landed at Utah Beach, on September 18th. They were equipped with 3″ towed guns and initially fought in the Metz sector from September to November.
The unit attacked toward Saarlautern in November and December and battled the German Nordwind offensive in January, 1945. They shifted north for the offensive to the Rhine in March and defended Rhine River bridges in April, converting to the M18 in time to join the drive through Bavaria late in the month.
At some point, Charles was captured by the enemy and as of April 26, 1945, he is listed as a POW (Prisoner of war), being held in Germany. Although we do not know his final rank, while he was a prisoner his rank was listed as Pfc. Charles was eventually released and returned to the U.S.
Charles married the former Bobbie Jean Eastin, who was born in Borger, Texas, and was the daughter of Paul Phillip Eastin and Eva Clara Meller. The new couple had five children, Robert, Gary, Michael, Rhonda and Lanora. Charles worked for the KATY Railroad during this time period.
Charles passed away on April 16, 1983, and was buried in the Sunset Memorial Gardens, in Stillwater, Oklahoma. I want to thank Charles' great-nephew, Michael, for providing the photo and information for this tribute. The grave marker photo provided courtesy of Gary Spurgeon.