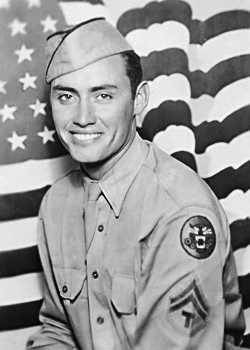 John J. Blair
Biography: John Junior Blair was born on May 4, 1922, in Nottingham, Wells County, Indiana. He was one of four children born to John O. Blair and Carrie E. Blocker. John graduated from Petroleum High School in 1940, and continued his education at Ball State University in Muncie, IN, where he also played basketball.
Service Time: John was drafted into the Army on December 16, 1942, in Indianapolis, IN. That same year, he married Wanda Gene Murray of Poneto, IN. She was the daughter of Zern Murray and Daisy M. Walker and the couple made their home in Muncie.
Over 230 men from Indiana were assigned to the 607th Tank Destroyer Battalion in late December and John was eventually placed in Company C. The 607th arrived in England in April, 1944, and Company C arrived at Utah Beach with towed 3" anti-tank guns on June 23, 1944. The unit fought along the Seves River in July, advanced to Le Mans and subsequently participated in the envelopment of the Falaise Pocket in August. They drove to the Moselle River in September and supported operations against Metz through November.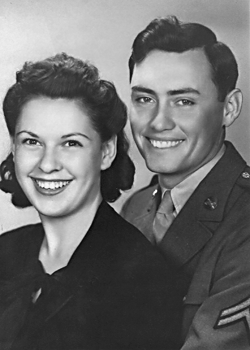 They converted to the self-propelled M36 tank destroyer in mid-November and following the fall of Metz, the 607th continued the drive eastward toward the Saar River and materially assisted in the capture of an intact bridge in Saarlautern. A grueling fight against the Siegfried Line in the city began, lasting through December and most of January. John was promoted to Sergeant on December 10th and soon became commander of a tank destroyer and crew.
In late January, they were moved to the Ardennes sector with Co. C ending up in Houffalize, Belgium. After a short period of rest and maintenance, they joined the 87th Infantry Division and again attacked the Siegfried Line in early February. Supporting the capture of Koblenz in mid-March, they crossed the Rhine River near the end of the month. Sweeping across central Germany, the unit reached the Czechoslovakian border near Plauen, Germany, by mid-April.
They held their positions until VE day arrived. John received credit for all five of the 607th campaigns and was awarded the following medals: Good Conduct, American Defense and the EAME. He was transferred to the 500th Armored Field Artillery Battalion on August 4th and it is presumed he returned home with that unit. John left the service at the rank of Sergeant.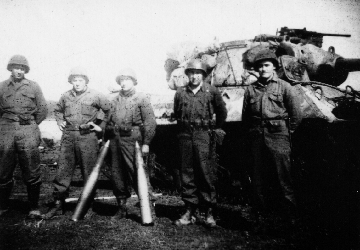 The photo, above left, shows John and Wanda on their wedding day. The photo at left shows John, standing at right, with his crew and TD.
John returned to Muncie and he and Wanda had three children, Sandra, Muriel and Tim. He started and operated Blair Cleaning and Painting Service from 1950 until 1987, finally retiring in 1992. John passed away on October 4, 2014, and was buried in the Stahl Cemetery north of Petroleum, IN.
We would like to thank John's great-nephew, Nick, for providing the photos and information used in this tribute.