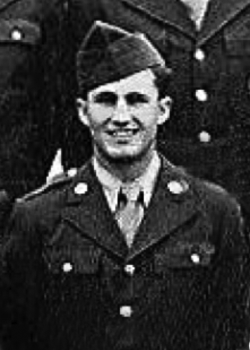 Peter Bottari
Biography: Peter Bottari was born on March 24, 1922, in Brooklyn, New York. He was the son of Anthony Bottari and Antoinette Gallo and attended local schools in Brooklyn through the 12th grade. His enlistment record identifies that he worked as a stock clerk prior to the war.
Service Time: Peter entered the service on November 14, 1942, at New York City, and was assigned to Company A of the 672nd Tank Destroyer Battalion. During his training, he qualified as a Marksman with the Carbine and an Expert with the Machine Gun. On April 15, 1944, while stationed at Fort Ord, California, the unit was redesignated as the 672nd Amphibian Tractor Battalion.
They sailed from the San Francisco Port of Embarkation on September 23, 1944, and landed at Bougainville Island, on October 9, 1944. The unit was attached to the 37th Infantry Division and carried troops ashore in the assault landing on January 9, 1945, at Lingayen Gulf, Luzon, Philippine Islands. They supported both the 37th Infantry Division and the 1st Cavalry Division in the drive south to Manila.
In February, 1945, they were attached to the 11th Airborne Division for the mission to capture the Los Banos prisoner camp and release its civilian internees on February 23, 1945. Moving to Morotai, in June 1945, the battalion was attached to the 1st Australian Division and one company from the Battalion carried troops ashore in the assault landing at Balikpapan Borneo, on July 1, 1945.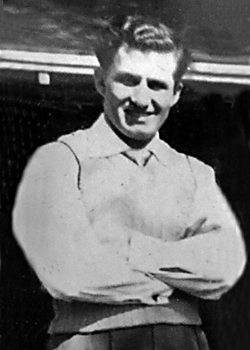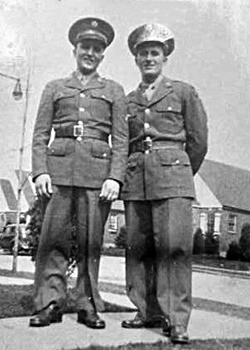 The photo above right is Peter (left) with his brother Crispin (right) soon after they had enlisted.
Peter received credit for the campaigns of Luzon, Northern Solomons and the Southern Philippines. He was awarded the American Service Medal, the Asiatic-Pacific Service Medal, the Good Conduct Medal, the WWII Victory Medal and the Philippines Liberation Ribbon. He shipped back to the U.S. on November 22, 1945, arriving on December 16th and left the service on December 31st at Fort Dix, New Jersey.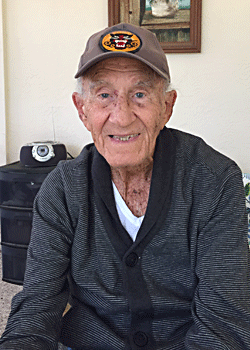 Peter went to work selling electrical lighting and later moved into management. On October 1, 1950, he married the former Rosemary Auciella who was born in Brooklyn and was the daughter of Eugene and Matilda Auciella. The new couple went to Miami, Florida for their honeymoon and never left, making their permanent residence there.
The couple had two children, Eileen, born in 1952 and Steven in 1953. In his spare time, Peter enjoys creating art and fishing. The photo on left was taken earlier this year (2017).
Peter passed away on December 18, 2017, at the age of 95. He was cremated and his ashes along with his wife's will be spread in Florida's Jupiter Inlet, on an incoming tide.
I want to thank Peter's son, Steven, for providing the information and photos for this tribute.